Dave Mustaine is someone blessed with enormous talent, but unfortunately also cursed with an addictive personality that has driven him close to the edge on more than one occasion.
After being sacked as Metallica guitarist in 1983 for his excessive, confrontational lifestyle, Mustaine put together Megadeth with bassist Dave Ellefson, guitarist Chris Poland and drummer Gar Samuelson and, urged on as much by a hatred of Metallica as by anything else, released the imaginative Killing Is My Business… And Business Is Good in 1985, followed by the seminal Peace Sells… But Who's Buying? a year later.
Their first album was on the independent Combat label, but as thrash metal grew in popularity the band signed to Capitol for the follow-up. Soon they became established members of the genre's Big Four, alongside Metallica, Slayer and Anthrax.
At this stage Mustaine sacked Poland and Samuelson, and hired Jeff Young and Chuck Behler (Samuelson's ex- roadie) before recording 1988's So Far, So Good… So What!. After which it was that pair's time to get the boot, and Marty Friedman and the late Nick Menza entered the lair. Amazingly, that line-up lasted almost a decade, and the continuity led to a productive period for the band, with 1990's Rust In Peace and Countdown To Extinction (which came two years later) being particularly inspired.
Regular commercial success seemed to spur on Mustaine's creativity, but by the end of the 90s – with Menza and Friedman now gone – the band had lost their way. The World Needs A Hero in 2001 (with Jimmy Degrasso on drums and Al Pitrelli on guitar) did little to halt this decline.
It wasn't until 2013 that Megadeth found themselves in the middle of another classic period, with Super Collider housing some of the finest compositions and musicianship ever heard on a Megadeth album – while follow up Dystopia saw Mustaine hitting the reset-to-brilliant button proper.
It's been a long, strange trip over the past 30-odd years for Mustaine, who is still not at peace with either himself or his past. But, despite his own misgivings over their legacy, Megadeth are unquestionably one of the bands who have given the thrash metal genre both longevity and credibility. Here, we compile Megadeth's most essential albums.

Peace Sells…But Who's Buying? (Capitol, 1985)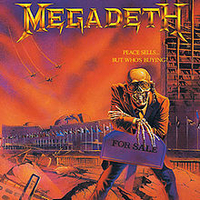 Not only the best Megadeth album, but also one of the very best thrash records ever. But this was far more than an exercise in high speed. The songs were well constructed, mixing complexity with easy tunes, and with the line-up by then voraciously feeding off each other the musicianship was of the highest order.
Every track is a gold-plated winner, with the title track, Devil's Island and Good Mourning/Black Friday among the truly great songs of the 80s. And covering bluesman Willie Dixon's I Ain't Superstitious was a stroke of genius.
Mustaine recently overhauled this album (and the rest of his Capitol back catalogue). But there was never any need, as the original has stood up magnificently to the ever-changing musical climate.
Rust In Peace (Capitol, 1990)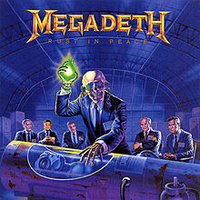 The first album with the Mustaine/ Ellefson/Friedman/Menza line-up – the finest Megadeth have ever had – and it runs Peace Sells… very close. There's a maturity here that never compromises the crucial energy of the band. With more of a hard rock sound than an out-and-out metal attack, the band were actually going towards the mainstream; or rather, they brought the mainstream closer to them.
There are some blazing masterpieces on Rust…, with Holy Wars…The Punishment Due and Hangar 18 a double-act album opener that beats anything else the band ever recorded. Five Magics, Lucretia and Rust In Peace… Polaris have class and punch – a potent combination that ensured Megadeth entered the 90s on a real high.
Killing Is My Business… And Business Is Good (Combat, 1985)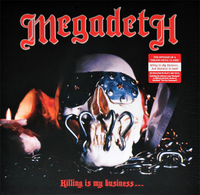 Nobody knew what to expect from Megadeth's debut. The band were an unknown quantity because Mustaine kept things very much under wraps. He was still seething after being sacked from Metallica, and was determined to outstrip whatever his old pals could achieve.
The precision and power of Killing Is My Business... surprised everyone. And Megadeth's Mechanix (a Mustaine/James Hetfield co-write) is possibly superior to Metallica's version (as The Four Horsemen). Elsewhere, Skull Beneath The Skin and Last Rites/Loved To Death offer quality and pace.
So Far, So Good… So What! (Capitol, 1988)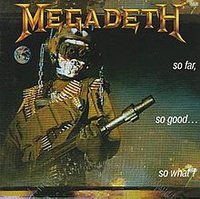 Made under possibly the most extreme conditions the band ever faced (by Mustaine's own admission, his drug habits had reached their height), the new line-up, with guitarist Young and drummer Behler, never gelled.
But despite all the problems and the fact that the sound was a little lacking in sparkle, the record still shone. Why? The songs. In My Darkest Hour, written by Mustaine about the death of his one-time Metallica bandmate Cliff Burton, is remarkable, Liar has a nasty sting (it was aimed at the departed Chris Poland), and 502 was almost a substance-abuse confessional. It's a shame the cover of the Sex Pistols' Anarchy In The UK was so lousy.
Dystopia (Tradecraft/UME, 2016)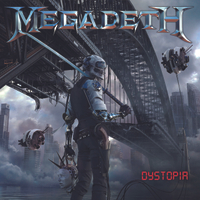 One of the things that has long defined Dave Mustaine's career is his ability to confound the cynics and, with an imperious sneer, flex his genre-refining muscles again. It should've been little surprise, then, that Dystopia was widely-lauded as one of the finest records Megadeth ever made upon its release in 2016.
Much was made of this album's new lineup and its apparently harmonious constitution, and it's certainly true that Megadeth sound like a well-oiled machine here. But Dystopia's success was rooted in the songs themselves and how they demonstrated a return to the fire and finesse that made the likes of Rust In Peace and Endgame such milestone releases. There are plenty of technical twists, deft changes of pace and bouts of blistering showmanship on the brooding title track and the epic menace of Poisonous Shadows, but there are also huge, rousing choruses and riffs that demand the banging of heads.
Countdown To Extinction (Capitol, 1992)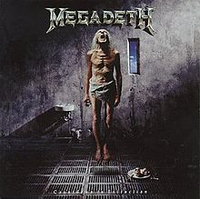 Some people saw this as Megadeth's answer to the previous year's Black Album from Metallica. In fact it was the natural successor to Rust In Peace.
While Countdown… alienated a section of the die-hards, it's difficult to believe now that anyone could cry 'sell-out' at Megadeth over a record that included the breathtaking Symphony Of Destruction, a track equal to anything on Metallica's mega-shifting '91 classic. And although nothing else here quite matched that standard, Skin O' My Teeth and Sweating Bullets are certainly not shabby, and the rest offer a consistent value.
Countdown… also moved Megadeth up to arena status in America.
Super Collider (Tradecraft/UME, 2013)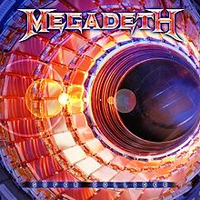 This album saw Megadeth ditch all the clichés and allow their instincts to take over, and it flowed with neatly observed touches as a result.
It bears little resemblance to the thrash era of the mid-80s – in fact, Super Collider has a lot more in common with Thunder And Lightning-era Thin Lizzy, early Van Halen and classic Mountain. The twin-guitar moves from Mustaine and Chris Broderick are stunning, giving every song a real lift, and providing light and shade against which Mustaine's desperately growling vocal menace can bring the intelligent yet confrontational lyricism to life.
While it may have appeared sacrilege-like to die-hard Megadeth fans, Super Collider was the culmination of four years during which Megadeth continuously raised their game.
Youthanasia (Capitol, 1994)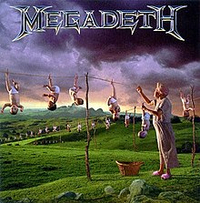 By the time this was released it seemed that Megadeth were stagnating badly. But the problem with Youthanasia is that the production (mostly by Max Norman) had no bite or energy. Mustaine blames himself for giving Norman too much control: "He co- produced Countdown… with me," he says, "and I was happy with what we got. But he was secondary to me on that project. When he got to be the main man on Youthanasia, it went wrong."
Nevertheless there are still some winning moments here, with Train Of Consequences and the oddball A Tout Le Monde working well and showing the band in the best possible light. But the lack of bite from too many of the tracks lets the record down too often.
Risk (Capitol, 1999)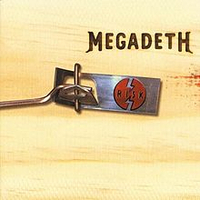 AOR giant Dann Huff was a strange choice to produce this album and 1997's Cryptic Writings. Mustaine himself now lays a lot of the blame for both records' failure squarely at Huff's door. However, although Cryptic Writings is definitely a failure, Risk has its moments – and more than many would think.
The single Crush 'Em was a real crowd-pleasing, fist-flailing show stopper with an unmistakable chorus, while Insomnia and Wanderlust don't mess around. But the pretentious Time: The Beginning and Time: The End are just dreadful and there's a feeling that Megadeth were becoming too formulaic in their dotage. Risk certainly isn't the disaster many reckon, but it isn't even close to the glories of the 80s.