Megadeth have shared a video showing drummer Dirk Verbeuren pounding his way through the band's classic track Mechanix in the studio.
The song originally appeared on Megadeth's 1985 debut album Killing Is My Business… And Business Is Good, which was reissued back in June.
It's clear Dirk's having fun in the the playthough and, as you would expect, he doesn't miss a beat in what is an epic performance. Check it out below.
The reissue of Killing Is My Business… was restored to vocalist and guitarist Dave Mustaine's original vision for the record and was remixed by Mark Lewis and re-mastered by Ted Jensen.
In addition to the remastered songs, it also includes seven live audio tracks from VHS tapes found in Mustaine's attic along with Megadeth's 1984, three-track demo and the previously removed cover of These Boots which features reworked vocals.
The latest version also boasts new cover art, while the packaging also includes flyers and band photos from the last 35 years.
Earlier this month, Mustaine shared a clip of Verbeuren working on new material as they continue to put the pieces in place for the follow-up to 2016's Dystopia.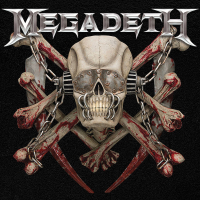 Megadeth: Killing Is My Business…
Megadeth's classic 1985 debut album is brought up to date with this special reissue. Along with the remastered songs, this version also includes live cuts and demos.