The Gaslight Anthem - The '59 Sound Sessions
1. The '59 Sound
2. God's Gonna Cut You Down
3. Patient Ferris Wheel
4. Miles Davis & The Cool
5. Placeholder
6. High Lonesome
7. Great Expectations
8. Our Father's Sons
9. Film Noir
The Gaslight Anthem will release a companion album to their 2008 record The '59 Sound next month.
Titled The '59 Sound Sessions, the record will feature nine rare and previously unreleased tracks along with a 60-page booklet documenting the band's second album.
The '59 Sound Sessions will be released on CD, LP, Limited Edition Deluxe Photobook LP and on digital platforms on June 15 via SideOneDummy Records.
Drummer Benny Horowit says: "The journey a band goes through is complex. We were perpetually on the road and in a state of constant motion.
"I can't think of a better time to try and create the most significant thing of your life when it was the most significant time of all our lives. I'm so happy to share this moment of our existence."
The Gaslight Anthem will head out on the road later this month for a run of shows which will see them play The '59 Sound in full. They have dates lined up in North America, the UK and Europe.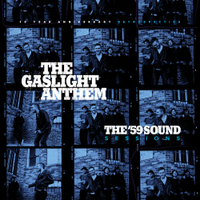 The Gaslight Anthem 2018 tour dates
May 27: Washington 9:30 Club, DC
May 28: Washington 9:30 Club, DC
Jun 02: New York Governor's Ball Music Festival, NY
Jul 20: London Hammersmith Apollo, UK
Jul 21: London Hammersmith Apollo, UK
Jul 23: Dublin Vicar Street, Ireland
Jul 24: Glasgow Barrowlands, UK
Jul 25: Manchester Apollo, UK
Jul 27: Tilburg 013, Netherlands
Jul 28: Cologne Palladium, Germany
Jul 29: Cologne Palladium, Germany
Aug 09: Toronto Rebel, ON
Aug 10: Toronto Rebel, ON
Aug 11: Chicago Riviera Theatre, IL