Slash has appeared in a new Ernie Ball video interview where he delves into what makes him tick as an artist.
The latest episode from the famous guitar string manufacturer sees the Guns N' Roses guitarist cover a range of subjects in an episode titled Unspoken Expression.
Slash (opens in new tab) says: "The guitar is basically a vehicle to be able to express feelings of anxiety, feelings of anger, feelings of passion, feelings of love, feelings of excitement, feelings of violence, feelings of sex – all these different emotions for me are very well expressed through the guitar.
"If it was something I really wanted to talk about, yell about, scream about or whisper about, it's easier for me to do it with a guitar than it is to do it through the spoken word."
The rock icon goes on to chat about discovering the guitar for the first time when he was growing up in England, his love of art, horror, dinosaurs – and describes the moment he first played a blues lick as stumbling "on the key to ever-lasting life."
Slash also talks about the making of Living The Dream (opens in new tab) – his latest album with Myles Kennedy and the Conspirators.
Watch the full interview below.
Slash recently revealed that he'd teamed up with Universal Studios for their Halloween Horror Nights programme (opens in new tab).
He collaborated with the US film giant to create an original score for a special-effects heavy maze back in 2014 – and he's done the same at this year's event, which runs until November 3 in Hollywood.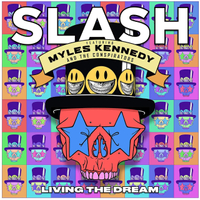 (opens in new tab)