Rod Stewart - Blood Red Roses
1. Look In Her eyes
2. Hole In My Heart
3. Farewell
4. Didn't I
5. Blood Red Roses
6. Grace
7. Give Me Love
8. Rest Of My Life
9. Rollin' & Tumblin'
10. Julia
11. Honey Gold
12. Vegas Shuffle
13. Cold Old London
Rod Stewart has announced that his new studio album will be released later this year.
It's titled Blood Red Roses and it's scheduled to arrive on September 28 via Decca Records.
The follow-up to 2015's Another Country is said to blend "the poignant observation, self-reflective introspection and playful swagger which established Stewart as one of the world's best-selling artists of all time."
To mark the announcement, Stewart has released the first single from the album in the shape of Didn't I, which was written about the damage drugs can do from a parent's point of view.
Listen to it below.
Stewart says: "I always think I make albums for a few friends and this record has that intimacy. Sincerity and honesty go a long way in life and the same is true in songwriting."
Stewart is currently on tour across North America, which will conclude with a six-night residency at The Colosseum at Caesars Palace, Las Vegas, in November and December.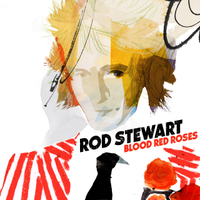 Rod Stewart - Blood Red Roses
Rod Stewart returns with his first album since 2015's Another Country. Blood Red Roses contains a total of 13 new tracks, including the lead single, Didn't I.