The long-awaited Nick Menza autobiography is to be published on December 11, it's been confirmed.
The book titled Megalife charts the life and career of the former Megadeth drummer, who died of natural causes in May 2016 while he was performing with his band Ohm.
The publication has been co-written by J Marshall Craig, who previously reported that Menza was initially reluctant to write his memoir as he didn't think his life was exciting enough (opens in new tab).
A synopsis of the book on publisher Post Hill Press' website (opens in new tab) reads: "With Nick Menza behind the kit, Megadeth transitioned from celebrated cult band to international superstars.
"Rust in Peace, the first album to feature Menza and Marty Friedman, was instantly considered a classic, sold over a million copies, got nominated for a Grammy Award, and established what many consider to be the definitive Megadeth lineup.
"It was the beginning of a remarkable run in which the band would release three career-defining albums and tour the world many times over.
"Success was a rollercoaster ride of highs and lows: sobriety and addiction, peace and tension, laughter and anger. Until one day it all came crashing down.
"Despite his contributions to the band's most iconic and enduring work, when Menza was forced to seek treatment for a debilitating tumour in his knee, he awoke from surgery to learn he was being fired from the band by the man he considered a brother and mentor, the ever-enigmatic Dave Mustaine.
"The devastating news sent him into a spiral of anger and frustration, followed by a dark period of self-medication that nearly killed him."
Megalife is described as an "unflinching look at life inside one of metal's most successful bands" and will give "a blow-by-blow account of the tumultuous, complicated relationship between Menza and Mustaine."
The synopsis concludes: "It is also the singular story of a self-taught musician who achieved his dreams through sheer will and determination, watched it all disintegrate, and then rebuilt himself from scratch."
Megalife: The Autobiography Of Nick Menza is now available for pre-order. Find details below.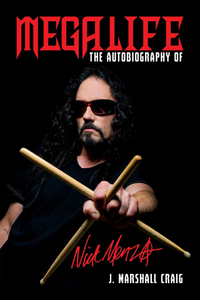 (opens in new tab)
Megalife: The Autobiography Of Nick Menza (opens in new tab)
The long-awaited book charting the life and career of late Megadeth drummer Nick Menza promises to take an "unflinching look at life inside of one of metal's most successful bands."