The Darkness - Live At Hammersmith
1. Open Fire
2. Love Is Only A Feeling
3. Southern Trains
4. Black Shuck
5. One Way Ticket
6. Givin' Up
7. All The Pretty Girls
8. Barbarian
9. Buccaneers Of Hispaniola
10. Friday Night
11. Makin' Out
12. Every Inch Of You
13. Solid Gold
14. Stuck In A Rut
15. Get Your Hands Off My Woman
16. Growing On Me
17. Japanese Prisoner Of Love
18. Christmas Time (Don't Let The Bells End)
19. I Believe In A Thing Called Love
The Darkness have released a live audio stream of their Pinewood Smile track Solid Gold.
The song has been taken from the UK hard rock heroes' upcoming album Live At Hammersmith which will launch on June 15 via Cooking Vinyl. It was recorded at the London venue in December last year during the band's Tour de Prance run of shows.
Vocalist and guitarist Justin Hawkins said: "The Darkness is untamed. It cannot be caged. Some very clever recording engineers have discovered a way to capture its essence – all that remains is for us to release it back into the wild.
"Life is about experiences, not possessions. This is your opportunity to possess the experience of The Darkness live, as perceived by your ears, leaving your eyes free to scan the road ahead for obstacles, or to watch Emmerdale with the sound off, or to mould clay, or to darn socks, or to look at the beautiful artwork in this magnificent gatefold.
"Release yourself into The Darkness - Live at Hammersmith."
The album will be released on CD, gatefold double vinyl and cassette, as well as on digital platforms.
The Darkness will support the Hollywood Vampires on their upcoming arena dates before playing outdoor shows with Queen + Adam Lambert in Glasgow and Dublin.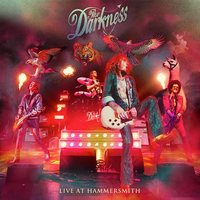 The Darkness - Live At Hammersmith
Recorded in London in December 2017, Live At Hammersmith showcases The Darkness at their best and includes the tracks Black Shuck, Growing On Me and Open Fire.
The Darkness 2018 tour dates
Jun 16: Birmingham Genting Arena, UK (w/ Hollywood Vampires)
Jun 17: Manchester Arena, UK (w/ Hollywood Vampires)
Jun 19: Glasgow SSE Hydro, UK (w/ Hollywood Vampires)
Jun 20: London SSE Arena Wembley, UK (w/ Hollywood Vampires)
Jul 06: Glasgow TRNSMT Festival, UK (w/ Queen)
Jul 08: Dublin Marlay Park, Ireland (w/ Queen)