Buddy Guy has released a stream of his new single Blue No More.
The track is taken from Guy's upcoming album The Blues Is Alive And Well, which will arrive on June 15 via Silvertone/RCA Records.
Blue No More sees the blues legend duet with James Bay, who is just one of the guests on the follow-up to 2015's Born To Play Guitar.
Rolling Stone Mick Jagger appears on the song You Did The Crime, while his bandmate Keith Richards is joined on Cognac by guitarist Jeff Beck.
Guy previously released his cover of Sonny Boy Williamson's track Nine Below Zero.
Guy will be the recipient of The Americana Music Association's Lifetime Achievement Award at Nashville's Ryman Auditorium on September 12 and will head back out on the road from next month in support of the new album.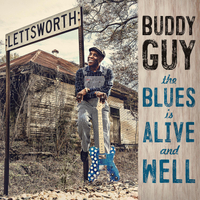 Buddy Guy - The Blues Is Alive And Well
The 81-year-old blues legend returns with his first album since 2015's Born To Play Guitar, featuring guest appearances from musicians including Rolling Stones duo Mick Jagger and Keith Richards.
Buddy Guy - The Blues Is Alive And Well
1. A Few Good Years
2. Guilty As Charged
3. Cognac (featuring Jeff Beck & Keith Richards)
4. The Blues Is Alive And Well
5. Bad Day
6. Blue No More (featuring James Bay)
7. Whiskey For Sale
8. You Did The Crime (featuring Mick Jagger)
9. Old Fashioned
10. When My Day Comes
11. Nine Below Zero
12. Ooh Daddy
13. Somebody Up There
14. End Of The Line