Buddy Guy - The Blues Is Alive And Well
1. A Few Good Years
2. Guilty As Charged
3. Cognac (featuring Jeff Beck & Keith Richards)
4. The Blues Is Alive And Well
5. Bad Day
6. Blue No More (featuring James Bay)
7. Whiskey For Sale
8. You Did The Crime (featuring Mick Jagger)
9. Old Fashioned
10. When My Day Comes
11. Nine Below Zer
12. Ooh Daddy
13. Somebody Up There
14. End Of The Line
Buddy Guy has released a stream of his cover of Sonny Boy Williamson's track Nine Below Zero.
It's the first material taken from Guy's upcoming album The Blues Is Alive And Well, which is set for release on June 15 via Silvertone/RCA Records. It's his first release since 2015's Born To Play Guitar.
The record will feature a total of 14 tracks and features guest appearances from Jeff Beck and James Bay along with Rolling Stones pair Mick Jagger and Keith Richards.
Beck and Richards team up on the track Cognac, while Jagger guests on You Did The Crime. Bay's contribution comes on the song Blue No More.
It's also been revealed that Guy will be the recipient of The Americana Music Association's Lifetime Achievement Award. He'll received the accolade at a ceremony at Nashville's Ryman Auditorium on September 12.
AMA executive director Jed Hilly says (via Rolling Stone): "Buddy Guy's incomparable musical craftsmanship has been lovingly shared with us over the years.
"As a community that reveres and honours groundbreaking artists and their work, we are humbled to present Buddy with this Lifetime Achievement honour in recognition and thanks for his musical and artistic contribution."
The 81-year-old blues legend is will head back out on the road from next month in support of the new album.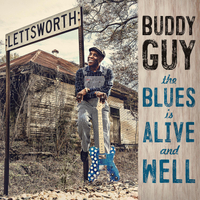 Buddy Guy - The Blues Is Alive And Well
Blues legend Buddy Guy teams up with artists including Mick Jagger, Keith Richards, Jeff Beck and James Bay on his new album – the follow-up to 2015's Born To Play Guitar.