Soundgarden guitarist Kim Thayil says that when he hears the band on the radio, he has to switch it off.
Asked by Billboard if he finds it hard to listen to their music following the death of frontman Chris Cornell in 2017, Thayil says: "I love the way he sings, but, yes, I turn the radio off when one of our songs comes on.
"I love our songs. I love our material, but I don't need to have the music presented to me. I can choose to listen to it on my own, any time I want to. But if it's presented to me and I haven't asked for it, I'll turn it off."
Thayil, along with his Soundgarden bandmates Matt Cameron and Ben Shepherd attended the ceremony to unveil the statue of Cornell in Seattle back in October, with Cameron reporting that the three of them would like to play together again, but that it was still early days.
And it's a point Thayil picks up, although he doubts that if they do, it'll be under the Soundgarden banner.
He says: "It's not likely that we could ever do Soundgarden without a missing piece. I'd like to do more with Matt in the future. I'd like to do something with Ben in the future.
"It's likely Matt and Ben and I will do something in the future, it just probably won't be Soundgarden. I don't see the dignity in pursuing that course."
That said, the guitarist reports that material the band were working on before Cornell's death could see the light of day at some point in the future.
Thayil says: "We were working on an album and there's material there that we demoed that we can flesh out when we can access some of the basic, multi-track recordings. That's being discussed."
Tomorrow (November 16) a career-spanning collection of Chris Cornell's work will also be released.
Simply titled Chris Cornell, the compilation was brought together by Cornell's widow Vicky and artists who worked with the vocalist.
It'll arrive on standard formats along with a limited-edition Deluxe Box Set and a Super Deluxe Box Set – both will include a total of 11 previously unreleased tracks.
A tribute concert in memory of Cornell will be held at The Forum in Los Angeles on January 16, 2019.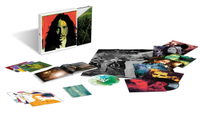 Chris Cornell Box Set
This new collection brings together choice cuts from late Soundgarden, Audioslave and Temple Of The Dog frontman's career and features a total of 88 tracks. Not to be missed.