Guns N' Roses have released an alternative take on their classic track November Rain.
The song appeared on their 1991 album Use Your Illusion I, but this previously unreleased piano version was recorded in 1986 during the band's famous Sound City sessions.
It'll be included on the Appetite For Destruction deluxe edition, which is set for release tomorrow (June 29) via UMC/Polydor in various formats including CD, 2CD deluxe edition, 2LP 180g vinyl, a super deluxe edition CD box set and a massive Locked N' Loaded vinyl box set.
November Rain appears on the collection's fourth disc titled 1986: Sound City Session N' More.
Earlier this week, GNR released a lyric video for their "lost" track Shadow Of Your Love. A live version previously appeared on the 12-inch version of the band's 1987 single It's So Easy and again as a B-side of 1991's Live And Let Die.
Guns N' Roses are currently on the road across Europe on their Not In This Lifetime tour.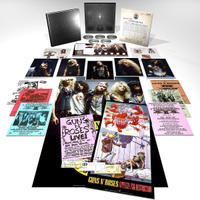 Guns N' Roses 2018 European tour dates
Jun 29: Madrid Download Festival, Spain
Jul 05: Nijmegen Goffertpark, Netherlands
Jul 07: Leipzig Festwiese, Germany
Jul 09: Chorzoq Stadion Slaski, Poland
Jul 13: Moscow Spartak Otkritie, Russia
Jul 16: Tallinn Song Festival Grounds, Estonia
Jul 19: Oslo Valle Hovin, Norway
Jul 21: Gothenburg Ullevi Stadium, Sweden