Status Quo's Francis Rossi is to release an album, book and head out on the road across the UK on a spoken word tour in 2019.
The album is titled We Talk Too Much and is a collaboration with Hannah Rickard. It'll feature a collection of brand-new material in the form of country duets and is set to arrive on March 15 via earMUSIC/Edel.
The day before, Rossi will launch his new autobiography titled I Talk Too Much, which will be published by Little, Brown.
Rossi penned the book with broadcaster Mick Wall and it is said to cover "the glory years, the dark days, the ups and downs of his relationship with the late Rick Parfitt and the real stories behind the creation of some of the greatest rock music of all time."
Then, on March 20, the Quo leader will embark on a 36-date spoken word tour across the UK.
Rossi explains: "This show is something new for me. It will be live and unscripted, so god knows what could happen! One thing's for sure though, it'll be a white-knuckle ride for me, but fans will get a real unvarnished insight into what's happened over the years.
"I'll be taking a guitar along to demonstrate how some of those Quo classics came into being, and hopefully we'll take a few questions from the audience too. It's been quite a journey, there's a lot to share."
Find a full list of tour dates below.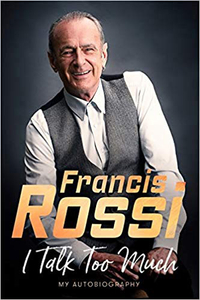 Francis Rossi: I Talk Too Much
Status Quo leader Francis Rossi's new autobiography will give readers a fascinating insight into Quo and Rossi's relationship with the late Rick Parfitt.
Francis Rossi 2019 spoken word tour UK dates
Mar 20: Whitley Bay Playhouse
Mar 21: Stirling Albert Halls
Mar 22: Kilmarnock Grand Hall
Mar 23: Dunfermline Carnegie Hall
Mar 24: Greenock Beacon Arts Centre
Mar 27: Leamington Royal Spa Centre
Mar 28: Lincoln New Theatre Royal
Mar 29: Shrewsbury Theatre Severn
Mar 30: Birmingham Town Hall
Mar 31: Crewe Lyceum
Apr 03: Richmond Theatre
Apr 04: Coventry Albany Theatre
Apr 05: Porthcawl Grand Pavilion
Apr 06: Brierley Hill Civic Hall
Apr 07: Preston Guild Hall
Apr 24: Bury St Edmunds The Apex
Apr 25: Cheltenham Town Hall
Apr 26: Swindon Wyvern Theatre
Apr 27: Watford Colosseum
Apr 28: Southend Palace Theatre
May 01: Lancaster Grand Theatre
May 02: Harrogate Theatre
May 03: Newark Palace Theatre
May 04: Leeds City Varieties
May 05: Loughborough Town Hall
May 08: Reading Hexagon
May 09: Worthing Pavilion
May 10: Hayes Beck Theatre
May 11: Bromley Churchill Theatre
May 12: Wycombe Swan Theatre
May 15: Aldershot Princes Hall
May 16: Exeter Corn Exchange
May 17: Folkestone Leas Cliff Hall
May 18: Clacton West Cliff Theatre
May 19: Dartford Orchard Theatre
May 20: King's Lynn Corn Exchange