The widow of Chris Cornell is suing the late Soundgarden frontman's doctor.
Vicky Cornell alleges that Dr Robert Koblin "negligently and repeatedly" over prescribed "dangerous mind-altering controlled substances" which she claims led tho the singer's death in May last year.
Rolling Stone report that the medical malpractice suit claims that the drugs given to him "impaired his cognition, clouded his judgement and caused him to engage in dangerous impulsive behaviours that he was unable to control, costing him his life."
Cornell died by suicide in May 2017 at the age of 52.
The legal papers allege that Koblin prescribed more than 900 does of anti-anxiety drug Ativan from September 2015 until the time of Cornell's death. The documents also claim that Koblin did not examine the vocalist before prescribing the medication.
The autopsy and toxicology report stated that Cornell had a variety of prescription drugs in his system at the time of his death, including Ativan along with "butalbital, pseudoephedrine and its metabolite norpseudoephedrine, caffeine, and naloxone" but they "did not contribute to the cause of death."
Following the coroner's findings, Vicky issued a statement to Rolling Stone saying: "Many of us who know Chris well noticed that he wasn't himself during his final hours and that something was very off.
"We have learned from this report that several substances were found in his system. After so many years of sobriety, this moment of terrible judgment seems to have completely impaired and altered his state of mind."
A statue of Cornell was unveiled in his home town of Seattle last month, while a career-spanning collection of Cornell's work will be released on November 16.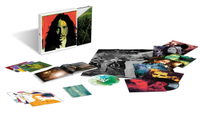 Chris Cornell Box Set
This new collection brings together choice cuts from late Soundgarden, Audioslave and Temple Of The Dog frontman's career and features a total of 88 tracks. Not to be missed.