Last week, organisers of the UK's Ramblin' Man Fair confirmed that Foreigner would headline the main stage at next year's event (opens in new tab).
Now, hot on the heels of that announcement is the news that Beth Hart will headline the blues stage at the UK's festival of rock, prog, country and blues, which will take place at Mote Park in Maidstone, Kent, between July 19-21, 2019.
The American singer, songwriter says: "We're going to be playing the Ramblin' Man Fair next year, so that's going to be really cool. I'm really excited about that, so ramble on!"
Hart is gearing up to release her new album Live At The Royal Albert Hall on November 30. She previously shared a video for Good As It Gets (opens in new tab) from the performance, and has now released Leave The Light On, which can be seen below.
For more on Ramblin' Man Fair 2019, visit the official website (opens in new tab).
Beth Hart - Live At The Royal Albert Hall
1. As Long As I Have A Song
2. For My Friends
3. Lifts You Up
4. Close To My Fire
5. Bang Bang Boom Boom
6. Good As It Gets
7. Spirit Of God
8. Baddest Blues
9. Sister Heroine
10. Baby Shot Me Down
11. Waterfalls
12. Your Heart Is As Black As Night
13. Saved
14. The Ugliest House On The Block
15. Spiders In My Bed
16. Take It Easy On Me
17. Leave The Light On
18. Mama This One's For You
19. My California
20. Trouble
21. Love Is A Lie
22. Picture In A Frame
23. Caught Out In The Rain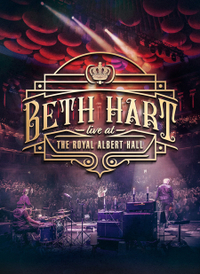 (opens in new tab)
Beth Hart - Live At The Royal Albert Hall (opens in new tab)
Beth Hart's sold out show at London's Royal Albert Hall from May this year is documented in this new release featuring 23 tracks from the vocalist's career.