Beth Hart has released a live video showcasing her performance of Good As Gets.
The track will be included on Hart's upcoming live package Live At The Royal Albert Hall, which will launch on November 30 on Blu-ray, DVD, 2CD, 3LP and on digital platforms via Provogue Records/Mascot Label Group.
The footage was captured during her sold-out show at the iconic London venue in May this year.
Hart tells the crowd: "This song is all about how much we love doing this and getting to come out here and perform for you guys. You come out, we're hanging out – it just doesn't get better than that."
Earlier this week, Hart released a video trailer for the DVD (opens in new tab), which will feature 23 songs spanning her career.
A statement on package reads: "Beth Hart makes one hell of an entrance. It's May 4th, 2018, and the Royal Albert Hall is in blackout. As a sell-out crowd holds its breath in the darkness, a lone figure appears from the shadows and purrs the opening line of As Long As I Have A Song in that unmistakable burnt-honey voice.
"Taking her time, followed by the spotlight, the Grammy-nominated singer-songwriter picks her way between the aisles of this iconic London venue, delivering the languid jazz vocal entirely acapella, while shaking the outstretched hands of fans who can't quite believe what they're witnessing."
Live At The Royal Albert Hall is now available for pre-order. Find further details below.
Beth Hart - Live At The Royal Albert Hall
1. As Long As I Have A Song
2. For My Friends
3. Lifts You Up
4. Close To My Fire
5. Bang Bang Boom Boom
6. Good As It Gets
7. Spirit Of God
8. Baddest Blues
9. Sister Heroine
10. Baby Shot Me Down
11. Waterfalls
12. Your Heart Is As Black As Night
13. Saved
14. The Ugliest House On The Block
15. Spiders In My Bed
16. Take It Easy On Me
17. Leave The Light On
18. Mama This One's For You
19. My California
20. Trouble
21. Love Is A Lie
22. Picture In A Frame
23. Caught Out In The Rain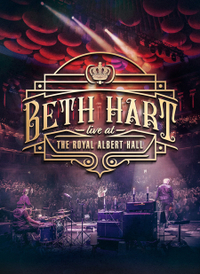 (opens in new tab)
Beth Hart - Live At The Royal Albert Hall (opens in new tab)
Beth Hart's sold out show at London's Royal Albert Hall from May this year is documented in this new release featuring 23 tracks from the vocalist's career.