Eric Clapton has released a video where he goes into detail about his new album Merry Xmas.
The festive record was released last month, with the guitarist giving his take on a selection of festive favourites – including White Christmas, a video of which he launched last week.
Clapton says: "Before this became a Christmas album there was still an intention of doing a normal studio album with no deadline.
"We were working on something that had no real shape. We would just collate material until we had enough to put out an album – and then it started to morph into the Christmas theme."
In the six-minute video Clapton talks about various topics, including his inspirations and how he drew on Bob Dylan's artistic talents to create the album cover.
Clapton will return to London's Royal Albert Hall for three nights in May next year and will then play shows in Germany and Austria in June.
Eric Clapton - Happy Xmas
1. White Christmas
2. Away In A Manger (Once In Royal David's City)
3. For Love On Christmas Day
4. Everyday Will Be Like A Holiday
5. Christmas Tears
6. Home For The Holidays
7. Jingle Bells (In Memory Of Avicii)
8. Christmas In My Hometown
9. It's Christmas
10. Sentimental Moments
11. Lonesome Christmas
12. Silent Night
13. Merry Christmas Baby
14. Have Yourself A Merry Little Christmas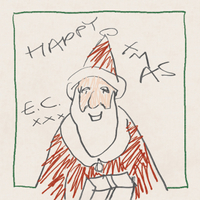 Eric Clapton: Happy Xmas
Eric Clapton releases a new album just in time for Christmas, where Slowhand gives his unique take on a bunch of festive classics, including White Christmas.