In the beginning, there was a bassist thrown out of space rockers Hawkwind because he enjoyed too many trips into orbit. So the myth and legend of Ian 'Lemmy' Kilmister was born. And – as with Ozzy a few years later, after he was ejected from Black Sabbath – many believed that Lemmy wouldn't have much of a career away from the mothership. But they were wrong.
In 1975, aided by guitarist Larry Wallis (a one-time Pink Fairy) and drummer Lucas Fox, Lemmy formed Bastard, then quickly changed the name to the drug-inspired Motörhead (slang for speed-freak). Both the band and their sound were so dirty and nasty that Lemmy once proclaimed: "If we moved in next-door your lawn would die."
Motörhead were rock'n'roll, but like nothing anyone had heard before. By the time Lemmy was joined by guitarist 'Fast' Eddie Clarke and drummer Phil 'Philthy' Taylor, the trio were so high on speed (in more than one sense) that they left even the sharpest of the punks puking in their wake. They appealed to anyone who enjoyed hearing riffs being torn apart by a band who were thrash long before anyone had thought of that term in a musical aspect. Lemmy's capacity for alcohol and drugs belied a brain that worked an articulate sensibility. But it was Motörhead's appetite for ever more virulent, violent melodies lashed to a sarcastic humour that got them chart-topping albums and hit singles.
When 1980 came along, Motörhead were, unbelievably, the cool face of metal, as far as the mainstream was concerned. And Lemmy's status as a legend remains undiminished, his musical legacy echoing down through the years.

Ace Of Spades (Bronze, 1980)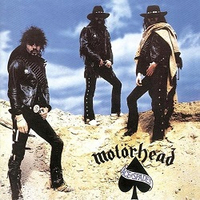 In any list of the greatest rock albums ever made, this one will always appear very high. A masterpiece, the culmination of five years' blood, sweat and JD shots for Lemmy, it's a triumph of substance and style over trend, and the record that put Motörhead right into the heart of the public's affections.
Yet despite becoming a 'trendy' coffee-table item in some suburban homes [alongside similarly 'cool-to-own' albums by the likes of Pink Floyd and Elton John], Ace Of Spades still trumps almost everything because it doesn't compromise.
Every song on this superb album is perfection, or close to it. This is indeed bludgeoning music raised to an art form. And the sweet suburbians understand as much as the denim 'n' leather brigade. Go figure.
No Sleep 'Til Hammersmith (Bronze, 1981)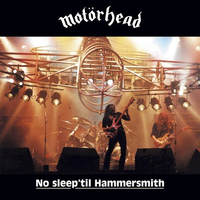 Sleep and Motörhead were about as acquainted as cannibals and vegetarian diets; the band had become road-hardened lunatics who revelled in insomnia and excess. No Sleep… captures not only their music in its rawest state [no overdubs here] but also their spirit and soul. That's why it's one of the all-time great live records.
Recorded on the Ace Of Spades tour, the original release comprised 11 of the band's best performances, although Sanctuary subsequently issued a double CD of the whole set. For most fans this is the definitive Motörhead album. One crucial factor is the audience, who live up to that old Trapeze maxim, 'You are the music, we're just the band'. No wonder it made it to No.1 in the UK.
Overkill (Bronze, 1979)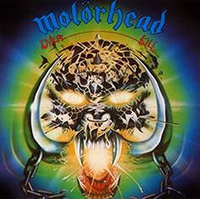 This album marks the moment when Motörhead were truly born. Neatly straddling the ailing punk movement and the birth of the New Wave Of British Heavy Metal, Motörhead had a unique sound that was acidic, acerbic yet also slickly depraved – no rusty nails sticking out here. Overkill, Stay Clean, No Class, Tear Ya Down… these weren't the hapless flounderings of some streetwise monosyllabics, but fully focused rages.
Lemmy always said that Motörhead weren't punk or metal, but a rock'n'roll band. And on Overkill you can hear what he meant. And let's not forget that unmistakable Lemmy rasp. Others might affect a vocal growl, but Lemmy's was for real, fed by just enough bourbon, smoke, ash and other unsavoury condiments. Overkill turned the world of rock on its head – and how we all enjoyed the experience.
Bomber (Bronze, 1979)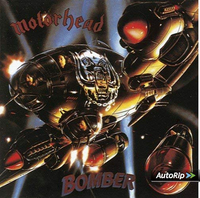 The Bomber album was an all-out offensive that was a true workers' revolution. Here were the grease monkeys letting fly with the inflammables – and then gleefully tossing several lighted matches into the tirade and sitting back to enjoy the result. This firmly followed the Motörhead philosophy: everything louder than everything else.
If you've seen the classic martial arts movie Shogun Assassin, then you'll be familiar with the Three Masters Of Death, all dressed in black and wielding abhorrent weapons of destruction. That was Lemmy, 'Fast' Eddie and 'Philthy' on Bomber, staring down all-comers. Dead Men Tell No Tales, Stone Dead Forever, Over The Top, Bomber… these weren't just songs, but rather gutter grapeshot anthems suitable for all generations to enjoy.
Another Perfect Day (Bronze, 1983)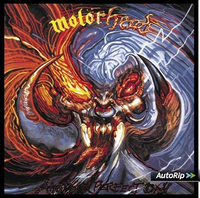 It was a marriage as odd as Michael Jackson and Lisa Marie Presley: Motörhead the biker-friendly dirt-bombs, and guitar hero Brian Robertson, of Thin Lizzy fame – the man chosen to replace 'Fast' Eddie.
When I first heard this record, it made no sense to me. Reviewing it for Kerrang! magazine at the time of its release, I believe I felt this was the beginning of the end for the band – a comment which led to Lemmy dedicating the song Dancing On Your Grave to yours truly at Hammsermith Odeon.
But, and I admit it, I was wrong. Another Perfect Day has stood up well to the lashing rain of critical fervour and the shifting sands of trends. Robertson wails heroically over battle-hardened rhythms, and songs like the aforementioned …Grave, Shine and Die You Bastard are right out of the top drawer.
Motörhead (Chiswick, 1977)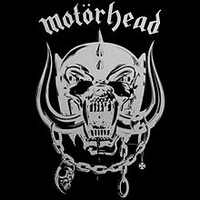 The second album recorded by the band, although the first to be released [the true debut, On Parole, was shelved by Motörhead's label, United Artists, who thought it wasn't polished enough]. It was very rough and ready, but did Motörhead actually need to be well-produced? This was spiky, irreverent, but it fitted neatly into a time when The Damned and their ilk were introducing the world to the concept of safety pins, pogoing and spitting at your favourite bands.
Always unsavoury, Motörhead was an album that alienated the Saturday Night Fever disco stompers – and for that reason alone it appealed to those who enjoyed confrontational music nurtured in shadows and fermented by dysfunction. And after all, it does open with the anthemic Motörhead itself.
Orgasmatron (GWR, 1986)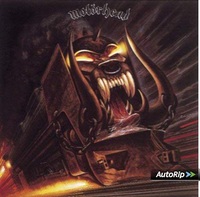 This is the first album recorded by the new line-up four-piece Motörhead, with guitarists Phil Campbell and Würzel having replaced Brian Robertson.
Orgasmatron marked something of a shift for the band, who if anything heavied up their sound with this record and took on the emerging new regime, in particular Metallica. And credit where it's due goes to producer Bill Laswell for revamping the Motörhead approach, which is typified by the title track, a rumbling monster that engulfs all in its path.
The apocryphal Deaf Forever and the sinister Claw add a menacing touch to the album. There's even a hint of psychedelic bikerfest here, providing the bridge between Blue Cheer in the late 1960s and Kyuss a few years later.
The best and worst of the rest...
The trouble with so many Motörhead albums is that they're patchy – neither good nor bad, but a pot pourri of both.
On Parole [1979] and Iron Fist [82] both offer enough quality to make them worthy additions to any collection. 1916 [91] is also decent, with the title track offering futility-of-war polemic from Lemmy. March Or Die [92] and Bastards [94] both suffer from a lacklustre performance and only a few memorable songs.
Strangely, the turn of the century seems to put a tiger back into the Motör. We Are Motörhead [2000] not only showed that Lemmy could still remember which band he was in, it was also a return to basics and more of a kick from the music. And 2004's Inferno was even better, offering real promise that Motörhead were getting back into the zone.
The best of the many compilations is definitely No Remorse [84], which showcased the first four recordings from the Lemmy/Würzel/Phil Campbell/Pete Gill era; the original sleeve was leather-bound – a collector's item now.