The arrival of a new Iggy Pop album, Every Loser, on Friday (January 6) is set to kickstart a new year in music.

The Godfather of Punk isn't the only iconic artist set to drop new music in 2023, with the likes of Metallica, The Cure, Smashing Pumpkins and Depeche Mode promising new records also. Add in forthcoming releases from the likes of The Murder Capital, Shame and Lana Del Rey and 2023 is already looking like a bumper year.

Here are 10 of the most anticipated new albums coming our way later this year that we can start getting excited about right now.

Metallica - 72 Seasons (April 14)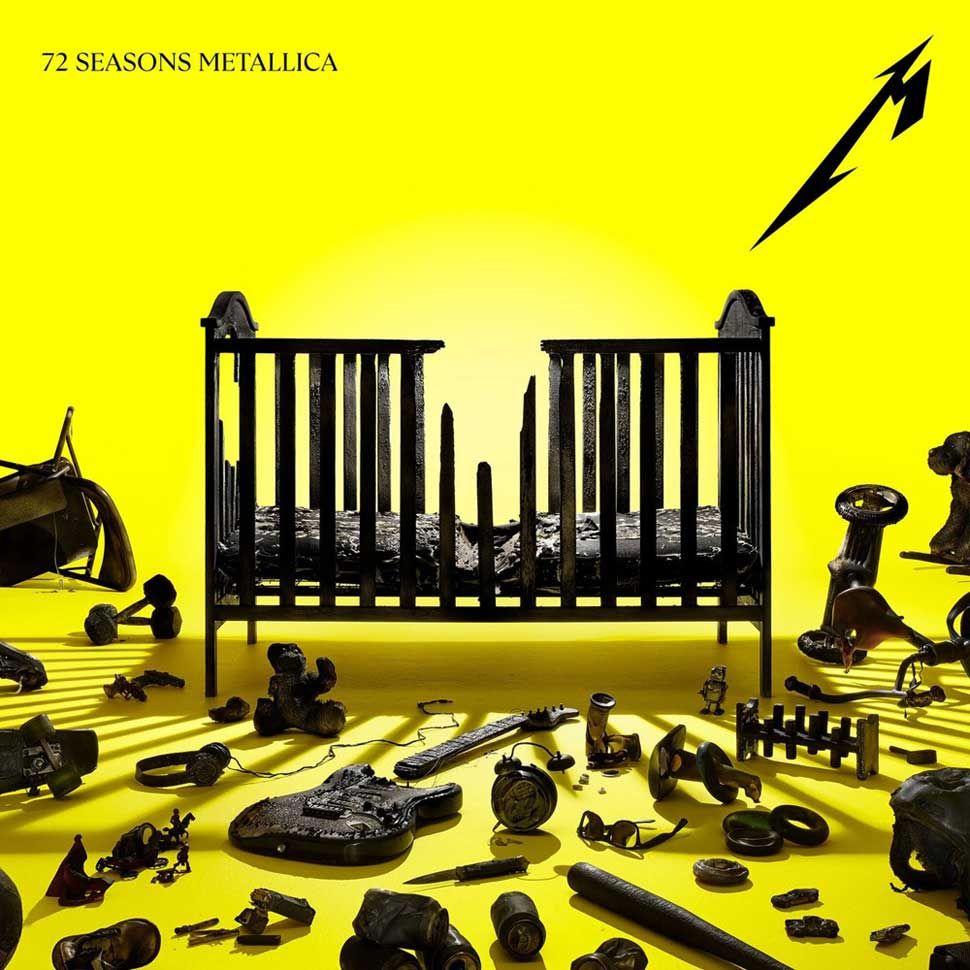 Delivering 77 minutes of brand new Metallica, the 12-track 72 Seasons is set for release on April 14, via the band's own Blackened label. Introduced by throwback thrasher Lux Æterna, a song James Hetfield describes as "an upbeat, kind of fast and joyous song", 72 Seasons is titled in reference to the first 18 years of life, and finds the San Francisco band trying to make sense of how an individual can develop "ideas and identity of self after those first 72 seasons", according to their frontman. Song titles such as Screaming Suicide, If Darkness Had A Son, You Must Burn! and Crown Of Barbed Wire suggest that 72 Seasons won't be a party album... but Metallica have surprised us before.
Pre-order 72 Seasons (opens in new tab)


---
The Cure - Songs Of A Lost World (TBC)
Much of the excitement around The Cure's winter 2022 tour lay in the anticipation of Robert Smith's band dropping new material into their epic set-lists amid classic songs such as Boys Don't Cry, Lovesong, Just Like Heaven, etc.

On the tour's closing night, at London's OVO Wembley Arena on December 13, the group previewed no fewer than four new songs slated for inclusion on Songs Of A Lost World, and fans hearing Alone, And Nothing Is Forever, Endsong and I Can Never Say Goodbye have been almost unanimous in predicting that the album will be a masterpiece to rank alongside Pornography and Disintegration.

Back in 2021, Robert Smith revealed that The Cure actually have two new albums in the works - "one of them's very, very doom and gloom and the other one isn't" - and stunning live recordings from the Lost World tour suggest that album number 14 is going to be the former.
---
Shame - Food For Worms (February 24)
South London post-punks Shame will release the follow-up to 2021's Drunk Tank Pink on February 24 via Dead Oceans, having teased their third album with the release of lead-off single Fingers Of Steel in November. Shame too offered previews of their forthcoming album at a London gig late last year, performing new songs The Fall Of Paul, Yankees, Adderall, Burning By Design and more aboard a boat on the River Thames. Shame frontman Charlie Steen has Food For Worms as "the Lamborghini of Shame records", and we're told that it's "a celebration of life."
Pre-order Food For Worms (opens in new tab)
---
Depeche Mode - Memento Mori (March)
Depeche Mode's Dave Gahan and Martin Gore announced the existence of their forthcoming 15th studio album at a Berlin press conference last October: Memento Mori (translating as 'remember you must die') will be the first Depeche Mode studio album to be released since the death of keyboardist Andy Fletcher.

Speaking about the album, which will emerge ahead of a Depeche Mode's US tour in March, Martin Gore revealed, "We started work on this project early in the pandemic, and its themes were directly inspired by that time. After Fletch's passing, we decided to continue as we're sure this is what he would have wanted, and that has really given the project an extra level of meaning."


---
The Murder Capital - Gigi's Recovery (January 23)
The Murder Capital have already issued two singles from their forthcoming second album Gigi's Recovery, with the September release of A Thousand Lives following on from the July release of Only Good Things: both songs illustrate that the quintet, like fellow countrymen Fontaines D.C., are moving away from their post-punk roots.

Influenced, they say, by Radiohead, Jim Morrison, T.S. Eliot and Frank Sinatra, the 12-track album is a reflection of the Dublin band's coming of age. Frontman James McGovern recently told MOJO that their management described the album demos as "great, but pretty fucking depressing", but added "where they heard depressing, we heard optimism and hope!"

Pre-order Gigi's Recovery (opens in new tab)
---
Lana Del Rey - Did You Know That There's a Tunnel Under Ocean Blvd (March 10)
Los Angeles-based singer-songwriter Lana Del Rey released the lush, piano-led title track of her forthcoming ninth studio album last month: to date, her record company has erected only one billboard to promote the album... and by no coincidence at all, that billboard is in her ex-boyfriend's hometown of Tulsa, Oklahoma.
Offering a succinct review of the record, which follows on from her brace of 2021 albums, Chemtrails Over The Country Club and Blue Banisters, LDR stated "I'm angry." She has Courtney Love, for one, excited, Love recently bracketing the singer alongside her late husband Kurt Cobain as "the only two true musical geniuses I've ever known."

Pre-order Did You Know That There's a Tunnel Under Ocean Blvd (opens in new tab)
---
Paramore - This Is Why (February 10)
Paramore have offered up two tasters for their 'comeback' album This Is Why, their follow-up to 2017's After Laughter. Hayley Williams' band issued the title track in September, and dropped a horror movie-inspired video for its second single, The News, last month.

The singer says that the Nashville band needed to take a hiatus to "to find our identity apart from Paramore and all the public projection we get in our life" but, revealing that her band's new album is inspired by Bloc Party and "a lot of older music that we grew up being inspired by", the 34-year-old seems re-energised about the prospect of taking on the world once more in 2023.

Pre-order This Is Why (opens in new tab)
---
The Smashing Pumpkins - Atum: Act Two (January 31)
Smashing Pumpkins leader Billy Corgan announced his plans to release a mammoth 33-track trilogy-completing companion set to 1995's Mellon Collie And The Infinite Sadness and 2000's Machina/The Machines Of God back in 2020, and duly delivered the first 11 songs as Atum: Act One in November: Act Two was trailered by single Beguiled in September. Corgan told Kerrang! that the three albums go off in "a million different directions", adding "Our hope is to at one point stage this 33-song album as a musical where we have different guests singing the different parts."

"I think it's a huge challenge at this point to sort of make music when you're not at the centre of the cultural zeitgeist," he mused. "I need to pursue music for music's sake, and then let everything else kind of work itself out."
Pre-order the Atum box set (opens in new tab)
---
Fucked Up - One Day (January 27)
Fucked Up's sixth studio album is their shortest to date, written and recorded in the confines of 24 hours, hence the title. According to a press communique, the concept was conceived by guitarist Mike Haliechuk back in 2019. "After you've been in a band for this long, you lose track of what your sound actually is," the guitarist admits. "Twenty-four hours can feel like a long time, but you can get a lot done then, too. It can feel like forever and one minute at the same time. If you work on something for one day, it can end up being really special."

The two tracks already released from One Day - the title track and Found - offer great hope of the Toronto progressive hardcore crew delivering another masterpiece to rank alongside 2008's The Chemistry of Common Life and 2018's Dose Your Dreams.

Pre-order One Day (opens in new tab)
---
dEUS - How To Replace It (February 17)
Belgian art-rockers dEUS might not be the most high-profile artists on this list, but for fans, the prospect of a first studio album since 2012's Following Sea has generated much excitement. And having been privileged to hear How To Replace It, this writer can happily second their record label's confident claim that its dozen tracks represent Tom Barman's band "at their enigmatic best."

'Follow the lyrical clues, and you might conclude it concerns romance and ageing," the group say. "Squint a little, and you might alight on modernity being the malaise described. Either way, fueling intrigue is by design. It's a question, it's an answer…it's up to the listener to decide."
Pre-order How To Replace It (opens in new tab)
---