Rammstein guitarist Richard Kruspe says he has "mixed feelings" about the band's 2019 European tour.
The band will play 16 shows next summer, kicking off at La Defense Arena in Paris on June 28, and concluding with a set at Vienna's Ernst-Happel Stadion on August 22.
And while he's looking forward to the run, Kruspe says the outdoor stadium shows give him some slight concerns as the vibe will be completely different compared to the indoor concerts.
Asked how excited he is about the tour, the guitarist tells Kaaos TV: "I have mixed feelings. Obviously, I'm looking forward to doing something like that, because we haven't done something like that before. It's like the next step.
"On the other hand, it's also a big responsibility. We set out to perform at a very high level and we just realised, in a stadium, it's different. Everything is different – you have to think differently as you have to deal with daylight. Just all those things you have to consider. It's not that easy.
"My brain is running in circles thinking about what you can and can't do. Hopefully we are coming up with something good."
Kruspe adds: "It's going to be interesting. At this point, I'm very happy there's five other guys that have to bear their burden as well."
Meanwhile, Kruspe's Emigrate side project will release the album A Million Degrees on Friday (November 30) via Spinefarm Records. The record features a number of guests, including Rammstein frontman Till Lindemann and Ghost's Cardinal Copia.
Check out their video for 1234 featuring Ben Kowalewicz below.
Rammstein 2019 European tour
Jun 28: Paris La Defense Arena, France
Jul 02: Hannover HDI Arena, Germany
Jul 06: Milton Keynes Stadium, UK
Jul 10: Brussels Stade Roi Baudoiun, Belgium
Jul 13: Frankfurst Commerzbank Arena, Germany
Jul 16: Prague Eden Arena, Czech Republic
Jul 17: Prague Eden Arena, Czech Republic
Jul 20: Luxembourg Roeser Festival Grounds, Luxembourg
Jul 24: Chorzow Stadion Slaski, Czech Republic
Jul 29: Moscow VTB Arena, Russia
Aug 02: St Petersburg Stadium, Russia
Aug 06: Riga Lucavsala, Latvia
Aug 10: Tampere Ratina Stadion, Finland
Aug 14: Stockholm Stadion, Sweden
Aug 18: Oslo Ullevaal Stadion, Norway
Aug 22: Vienna Ernst-Happel Stadion, Austria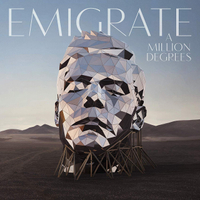 Emigrate: A Million Degrees
Richard Kruspe's Emigrate's new album A Million Degrees features guest appearances from Kruspe's Rammstein bandmate Till Lindemann and Ghost's Cardinal Copia.