Dave Mustaine is hoping that Megadeth will release a new studio album in 2019.
The vocalist and guitarist has revealed that he, bassist David Ellefson, guitarist Kiki Loureiro and drummer Dirk Verbeuren have begun the writing process for the follow-up to 2016's Dystopia (opens in new tab) and puts the chances of a release next year at "probably 95%."
Ask by Guitar World (opens in new tab) if the band were moving ahead with new material, Mustaine replies: "Yes, actually, we are. We have been for a few weeks now.
"All the band members are at home writing stuff and putting it in the same spot, keeping all the riffs centralised in one place. And anybody can access anybody's stuff. Then once we're done, I'll start assembling everything."
Pressed if fans can expect to see new Megadeth music in 2019, Mustaine says: "Absolutely. For sure. A whole new record, I would say the chances are probably 95%. And at least one new song, I'd say it's 100%. No question."
In June, Megadeth revisited their debut album Killing Is My Business… And Business Is Good (opens in new tab), which was brought up to date to match Mustaine's original vision for the 1985 record.
The deluxe package featured previously unheard parts and performances throughout, including a missing drum performance discovered during the mixing sessions.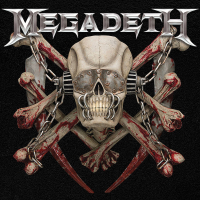 (opens in new tab)