Jimmy Page has teamed up with Fender to recreate his iconic 1959 Telecaster which he played with The Yardbirds and used on Led Zeppelin's self-titled debut album in 1969.
The original was given to Page by Jeff Beck and is famous for its "mirror" and "dragon" designs, with the instrument being made again to celebrate the 50th anniversary of Led Zeppelin and Page's career.
Fender will release four signature models in 2019: Two will be made on Fender's production lines, while the other pair will be produced in the Fender Custom Shop and named the "Limited Edition Jimmy Page Telecaster Set."
Page says: "Because of the heritage of this guitar, that comes through Jeff Beck and goes through the whole of the first album, I thought it would be really interesting to see if Fender would be interested to do it.
"I wanted to recreate the original guitar so that it would travel beyond what it originally was. They really got it 110% right!"
Executive vice president of Fender products, Justin Norvell, adds: "This unique Fender Telecaster has an amazing backstory and helped inspire some of the greatest rock music of all time, both in the later years of The Yardbirds and at the genesis of Led Zeppelin.
"Now we're giving a new generation of players access to two great instruments in honour of Jimmy, his storied career and amazing musical body of work created and performed on this guitar."
Watch a video about the guitar below.
Last month, the book Led Zeppelin By Led Zeppelin – which charts the band's legendary career - was published by Reel Art Press. The 400-page volume features previously unpublished photos and artwork from Led Zep's archives and includes contributions from photographers from around the world.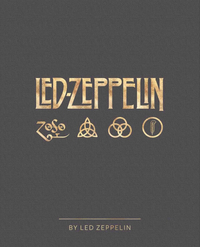 Led Zeppelin By Led Zeppelin
The first and only official illustrated book documenting Led Zep's legendary career features previously unreleased photographs along with artwork from the band's archives.