David Bowie's performance from Glastonbury in 2000 is to receive a home release.
Bowie headlined the festival on Sunday, June 25, that year, with the new package set to arrive on 2CD/DVD, 3LP, 2CD and on digital platforms on November 30 via Parlophone Records.
The new release will include all 21 songs from his greatest hits set, while the DVD will include video of the entire performance for the very first time. Only 37 minutes of the set were previously broadcast.
Bowie Glastonbury 2000 will also come with the vocalist's diary from the time, which he originally wrote for Time Out documenting his preparations for the UK festival show.
Bowie Glastonbury 2000 has been remastered and the video quality upgraded and will also include liner notes from author and Bowie fan Caitlin Moran.
Glastonbury co-organiser Emily Eavis says: "I often get asked what the best set I've seen here at Glastonbury is, and Bowie's 2000 performance is always one which I think of first. It was spellbinding – he had an absolutely enormous crowd transfixed.
"I think Bowie had a very deep relationship with Worthy Farm and he told some wonderful stories about his first time at the festival in 1971, when he stayed at the farmhouse and performed at 6am as the sun was rising.
"He just played the perfect headline set. It really was a very special and emotional show."
Bowie Glastonbury 2000 is now available for pre-order. Find details below.
David Bowie - Glastonbury 2000
CD 1
1. Introduction (Greensleeves)
2. Wild Is The Wind
3. China Girl
4. Changes
5. Stay
6. Life On Mars?
7. Absolute Beginners
8. Ashes To Ashes
9. Rebel Rebel
10. Little Wonder
11. Golden Years
CD 2
1. Fame
2. All The Young Dudes
3. The Man Who Sold The World
4. Station To Station
5. Starman
6. Hallo Spaceboy
7. Under Pressure
8. Ziggy Stardust
9. Heroes
10. Let's Dance
11. I'm Afraid Of Americans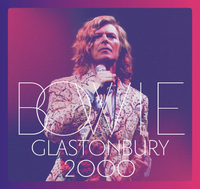 (opens in new tab)
David Bowie - Glastonbury 2000 (opens in new tab)
David Bowie's memorable headline set from the Glastonbury festival in 2000 is documented in full on this new package, which contains previously unseen material from the show