Queen's Brian May has hailed Rami Malek's performance in new film Bohemian Rhapsody (opens in new tab) and has called it "remarkable."
The guitarist was speaking to the Press Association (opens in new tab) about the smash hit film, which focuses on the first 15 years of the band, and paid tribute to all of the cast and crew for giving "200%" to the process.
But he also singled out Malek's portrayal of Freddie Mercury for special praise and says the 37-year-old Mr Robot star deserves an Oscar nomination.
May said (via Independent.ie (opens in new tab)): "We've lived with this project for nine years and it's incredible to see it doing so well. It came out to shitty reviews, as some of our work has before, but the public has embraced it magnificently.
"Everybody gave 200%, from the actors and technicians to the production team and hair and make-up, everyone. You don't get any lukewarm responses. The guy who plays me should be getting awards all over."
When asked what he thought of Malek's performance in particular, May responded: "He's incredible as well, without doubt he'll be on the nominations list for an Oscar and well deserved as well.
"He inhabited Freddie to the point where we even started to think of him as Freddie. Really remarkable."
Classic Rock recently ran an online poll to find out the 50 greatest Queen songs of all time. Close to 50,000 fans responded… and the results are now in! (opens in new tab)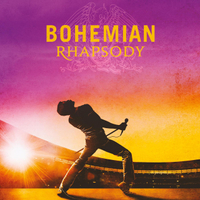 (opens in new tab)
Queen: Bohemian Rhapsody (opens in new tab)
The official soundtrack to the Queen biopic features previously unreleased audio from Live Aid, new versions of old favourites and a selection of songs from the band's back catalogue.