I've always been able to appreciate the talent in Metallica. Every band has its strengths and its weaknesses. Personally, from everything I've heard so far, I think the new album is a good one. I hear that a lot of people have been making comments about Kirk Hammett and Rob Trujillo not writing anything on it. But sometimes that's just unavoidable. I guess I would've loved more writing from both those guys, because I loved [Rob Trujillo's former bands] Infectious Grooves and Suicidal Tendencies and I always loved the lines Kirk wrote with Exodus, but that's the way the cookie crumbles when you're in the studio. The best songs make the cut. Everyone wants to pick the best things.
When it comes down to critiquing production stuff, it's kind of a personal thing. One man's trash is another man's treasure. For example, I know a lot of people really dig Rick Rubin and the way that he produces stuff. While I respect Rick tremendously, I do think that what he does with bands like The Cult really works and then when he does stuff with metal bands it doesn't necessarily translate in the same way. Hardwired is definitely a different sounding record than, for example, St. Anger, and it sounds pretty good to me. I know it took 'em eight years to make this record so I'm glad for them that people are digging it. It's a small community, you know?
To have all of the Big Four releasing great new records within 12 months or so, that's really cool. Now the big question is whether or not the powers-that-be are gonna allow for the four of us to go and do some more Big Four dates. We've got a lot of great stuff going on and we've got some stuff we're setting up for Asia and the United States for next year, but if Big Four stuff presented itself we'd probably yield to that because it's a lot more fun and it's such an event that it takes precedence over just another tour, so to speak. When fans get to have four of the greatest heavy metal bands of all time on the same stage, that's something you can tell your grandkids about.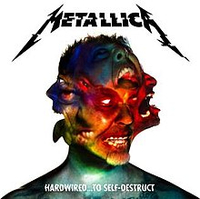 (opens in new tab)
Metallica: Hardwired... To Self-Destruct (opens in new tab)
Metallica's 10th studio album Hardwired... To Self-Destruct was released back in 2016 and features tracks that have gone on to become fan favourites such as Moth Into Flame and Atlas, Rise!. You can now get your hands on the double LP which is pressed on heavyweight vinyl.