Ghost - Prequelle
1. Ashes
2. Rats
3. Faith
4. See the Light
5. Miasma
6. Dance Macabre
7. Pro Memoria
8. Witch Image
9. Helvetesfonster
10. Life Eternal
So the jig is up, the black cat is out of the bag. Fake decrepit Ghost frontman Papa Emeritus has been officially outed as Tobias Forge, a 30-something Swedish hipster who tried his hand at everything from glam rock to death metal before hitting on the genius idea of combining cartoon Satanism with knowingly retro psych-pop tunes. Of course, it was the worst-kept secret in showbiz anyway – at least the corner of showbiz that deals in tongue-in-cheek occult Scandinavian metal – but it was fun while it lasted.
The big reveal was inevitable after a group of disgruntled ex-bandmates hit Forge with a lawsuit. In truth, it couldn't have come at a better time – after three increasingly successful albums, it was a gag waiting for a punchline that was taking its time arriving.
Prequelle doesn't serve up that punchline, but offers something even better instead: a set of subversive, contrary, frequently brilliant songs that push against the boundaries of metal's self-imposed cult-hood. There are moments of arena-rock ambition, sly transgression and winking blasphemy, all sugared by the kind of pop nous that rock seems to have misplaced years ago.
First single Rats is the perfect snapshot of where Ghost are at four albums in, hitching rat-a-tat riffing to a billowing melody that suggests they've been listening to ABBA as much as they have Black Sabbath. This gleefully perverse marriage of the sacred and profane continues through the sweetly crunching See The Light and stately ballad Pro Memoria, reaching its logical conclusion with the genius one-two of Miasma and Danse Macabre. The former is a gradually building instrumental that climaxes in a fantastically unexpected saxophone solo (take that, Beelzebub!), the latter a pure 80s rock-club banger that's as audacious as it is glorious.
Of course, the Satanic Vatican drag is still there – the latest iteration of the band's frontman is Cardinal Copia, which is basically Forge in a spiv suit and a Lemmy mask. And there's a surprisingly thoughtful plague-themed concept running throughout, which, if you care to dig deep enough, equates the sins of the medieval church with today's societal ills.
All this elevates Ghost above the herd, placing them in the sacred company of Blue Öyster Cult and Marilyn Manson – metal acts with brains, wit and an overwhelming desire to put clichés to the torch. And for that alone, Ghost deserve an exultant hallelujah.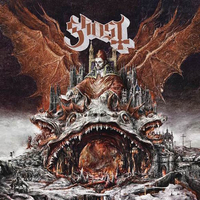 Ghost - Prequelle
"It's themed around medieval times, but it's definitely clinging on to a lot of very current things," says Tobias Forge. "The Black Death is a great example of a turning point for a whole civilization. Complete villages were annihilated. Most people knew very little, so all of it was God or the Devil – and about their faith being questioned: Why are we being stricken down by this great scourge? It must be because of our not fearing God enough and all this superstitious bullshit."