Greta Van Fleet say that one of the goals of their young career is to re-introduce the masses to the sound of "authentic blues-rock."
The Michigan outfit have just released their highly-anticipated debut album Anthem Of The Peaceful Army (opens in new tab) and have talked about their influences, hopes and, yes, those comparisons to Led Zeppelin in an interview with Premier Guitar (opens in new tab).
Bassist Sam Kiszka says: "I think what really sets us apart is the time our music is coming. Right now, it's coming at a time when your stereo is not receiving signals of authentic music. And it's time for that to change.
"Greta Van Fleet has a chance to bring authentic blues-rock back into the popular scene.
"We are three brothers and a best friend, we really love each other, we write all of our songs together, and we put power behind our music in this modern scene."
The band have come under fire from some rock fans for sounding too similar to Led Zeppelin, but guitarist Jake Kiszka isn't letting that worry him.
He says: "There are a pretty broad range of influences we grew up with. Being a band for this generation, we're still a product of our environment. I think we're blatantly making it apparent that these are things that influenced us growing up, and not just Led Zeppelin.
"It's the Beatles and the whole of the British Invasion and American roots music and so many other things. But we're not shy or abased to say that we were influenced by Led Zeppelin. We're not trying to hide anything."
Greta Van Fleet will travel to Europe for live shows later this month and into November and have a tour planned for 2019, when they'll visit Australia, New Zealand, Europe, the UK and North America.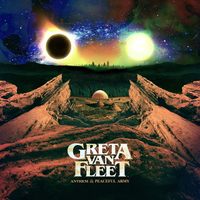 (opens in new tab)