Former Twisted Sister frontman Dee Snider says he's been told his vocal range "defies laws of actual physics."
The vocalist reports that he had his voice tested and both he and the experts were "stunned" at the results.
Snider tells the MetalSucks podcast (opens in new tab): "I got my voice tested and they said it defies laws of actual physics. They said, 'Look at what's going on here – your voice is hitting every harmonic at once, yet you are forcing it into notes. You're striking your vocal cords and ringing every note. It's like white noise. Somehow you force all those harmonics to go into different notes.'
"They were just stunned – I was stunned. I was looking the graph going, 'Holy shit!'
"They couldn't figure it out. People ask me if it's hard for me to sing this way – no, it's easy for me to sing like this."
Snider adds: "It's like a devil voice. The vocal cords are like strings on an instrument. When you sing, you normally hit one note at a time, and that's where you get your pitch. I'm just hitting them all, and insisting that it turn into a note."
Snider released his new album For The Love Of Metal (opens in new tab) last week – a project that came about after Hatebreed's Jamey Jasta challenged him to make a metal record.
It includes a number of guest musicians and vocalists, including ex Killswitch Engage frontman Howard Jones, Lamb Of God guitarist Mark Morton, Joel Grind and Nick Bellmore from Toxic Holocaust and Arch Enemy's Alissa White-Gluz.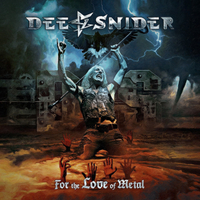 (opens in new tab)
Dee Snider - For The Love Of Metal (opens in new tab)
Twisted Sister icon Dee Snider returns with his new solo album, featuring guest appearances from artists including Lamb of God's Mark Morton, Howard Jones and Alissa White-Gluz.