David Bowie's very first demo has been discovered stashed away in an old bread basket.
Bowie recorded the track I Never Dreamed in 1963 with his band The Konrads in a bid to secure a record deal with Decca. However, they were unsuccessful, with Bowie later leaving the group.
The Guardian (opens in new tab) report that the demo was uncovered by The Konrads' manager and drummer David Hadfield when he was moving house, with the rare tape bundled in a bread basket which once belonged to his grandfather along with various other items including photos and letters.
The demo will now be sold through Omega Auctions in September and it's expected to fetch £10,000.
Hadfield tells The Guardian: "We had decided that we would do a couple of guitar instrumentals and one original song. I chose I Never Dreamed as it was the strongest, the other two were a bit weak.
"I also decided that David was the best person to sing it and give the right interpretation. So this became the very first recording of David Jones singing 55 years ago."
The demo will be part of Omega Auctions' Music Memorabilia, Instruments & Equipment sale. A full catalogue of items will be made available in the near future on their website (opens in new tab).
Last week it was announced that a new Bowie box set titled Loving The Alien would launch on October 12 (opens in new tab). The 11CD and 15LP set brings together Bowie's work from the mid-80s.
The collection follows Five Years (1969-1973), Who Can I Be Now? (1974-1976) and A New Career In A New Town (1977-1982).
Bowie died in January 2016 after battling cancer for 18 months (opens in new tab).
Bowie is the cover star of the latest issue of Classic Rock magazine, which is on sale now (opens in new tab). It features Golden Years, Golden Songs – the best of Bowie, as chosen by stars, including Tony Iommi, Joe Elliott, Lenny Kravitz, Joe Bonamassa, Glenn Hughes and many more.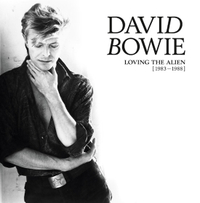 (opens in new tab)
David Bowie: Loving The Alien (1983-1988)
(opens in new tab)The fourth box set in a series celebrating Bowie's vast collection of music features tracks recorded in the mid-80s, including rare tracks, live cuts and soundtrack material.