David Bowie's work from the mid-80s is the subject of a new box set.
Loving The Alien (1983-1988) will be spread across 11CD and 15LP and has been named after the opening track from his Tonight album from 1984.
The collection is the fourth in a series of releases and follows Five Years (1969-1973), Who Can I Be Now? (1974-1976) and A New Career In A New Town (1977-1982) and will arrive on October 12.
The box set will contain the remastered albums Let's Dance, Tonight, Never Let Me Down, Glass Spider (Live Montreal '87) and the previously unreleased Serious Moonlight (Live '83).
Speaking in 1991 about Glass Spider, Bowie said: "It was the first time I'd had the opportunity to spend that kind of money and do shows like that! The first time since Diamond Dogs, anyway.
"I thought, 'Right! Let's really spend some money!' I had all these thwarted dreams of what I'd tried to do with rock'n'roll in the early 70s."
Also included in a collection of original remixes titled Dance along with a compilation of alternative versions, b-sides and soundtrack cuts titled Re:Call 4.
A special 2018 production of Never Let Me Down will also be included, which was overseen by producer Mario McNulty and re-recorded by bassist Tim Lefebvre, guitarists Reeves Gabrels and David Torn and drummer Sterling Campbell to give it a fresh spin.
Loving The Alien will also include a 128-page book in the CD version and an 84-page publication in the vinyl set featuring rare photographs, press reviews and technical notes from Bowie producers.
David Bowie is the cover star of the latest issue of Classic Rock magazine, which is on sale now (opens in new tab).
It features Golden Years, Golden Songs – the best of Bowie, as chosen by stars, including Tony Iommi, Joe Elliott, Lenny Kravitz, Joe Bonamassa, Glenn Hughes and many more.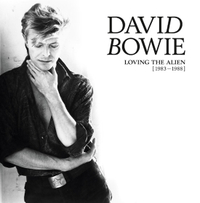 (opens in new tab)
David Bowie: Loving The Alien (1983-1988) (opens in new tab)
The fourth box set in a series celebrating Bowie's vast collection of music features tracks recorded in the mid-80s, including rare tracks, live cuts and soundtrack material.
David Bowie: Loving The Alien (1983-1988)
LP Box Set
* 88 Page hardback book
* Let's Dance (remastered) (1LP)
* Serious Moonlight (Live '83) (previously unreleased) (2LP)
*Tonight (remastered) (1LP)
*Never Let Me Down (remastered) (1LP)
*Never Let Me Down (2018) (previously unreleased) (2LP - side 4 is etched)
*Glass Spider (Live Montreal '87) (previously unreleased on vinyl) (3LP)*
*Dance (2LP)
*Re:Call 4 (non-album singles, edits, single versions, b-sides and soundtrack music) (remastered) (3LP)
CD Box Set
*128 Page hardback book
*Let's Dance (remastered) (1CD)
*Serious Moonlight (Live '83) (previously unreleased) (2CD)
*Tonight (remastered) (1CD)
*Never Let Me Down (remastered) (1CD)
*Never Let Me Down 2018 (previously unreleased) (1CD)*
*Glass Spider (Live Montreal '87) (2CD)
*Dance (1CD)
*Re:Call 4 (non-album singles, edits, single versions, b-sides and soundtrack music) (remastered) (2CD)