As the 40th anniversary of the New Wave Of British Heavy Metal edges nearer, specialist label Hear No Evil get in early with a box set that raises the bar for any subsequent releases planned to mark the occasion. Just as the movement drew on the energy and DIY approach of the punk genre that had overshadowed rock and metal in the lean years between '76 and '79, it also inspired a similar proliferation of new bands, a whopping 51 of whom are gathered here.
Outside of the success stories and better-known contenders, panning for gold among the era's less lauded exponents can yield cack-handed cacophonies alongside the nuggets, and Hear No Evil have wisely enlisted NWOBHM authority John Tucker, a man with several books on the subgenre under his bullet belt, to compile Winds Of Time. The selection here doesn't ignore bigger names, but manages to avoid obvious choices, mining major and independent label albums and singles, and even demo tapes, for gems.
Saxon represent the frontrunners with a live Stallions Of The Highway, a full-throttle biker anthem from their debut, and although Maiden and Leppard aren't present in person, members appear in earlier guises. Bruce Dickinson rips into Samson's Vice Versa, Janick Gers cranks out a riff uncannily similar to Two Minutes To Midnight on White Spirit's Midnight Chaser, and Leppard's Phil Collen solos on Girl's Heartbreak America. Girlschool hit the mark with debut 45 Take It All Away, the song that put them on Lemmy's radar via an airing from John Peel.
Those viewed as hot prospects way back when include Angel Witch (Loser), Fist (Brain Damage) and Diamond Head (The Prince); the Tygers Of Pan Tang, Raven, Black Rose and Avenger are among those representing the north-east's fertile scene; and there are riff-rich pickings from Saracen, Jaguar and Hellanbach.
Digging deeper, we find the polished hard rock of Brooklyn and Heritage, a stellar demo cut from Shiva (The Gallery) and Mean Gasoline, a promo-only single from Lautrec, known to change hands for upwards of £1,500, that features future UFO axeman Laurence Archer.
Occasional low-budget production limitations creep in, but the quality of material and musicianship is invariably high enough to dispel any such concerns. Winds showcases the NWOBHM at its best, and should appeal to anyone keen to revisit or investigate the era.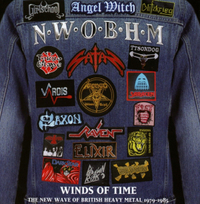 Winds Of Time – The New Wave Of British Heavy Metal 1979-1985
Although its roots and influences would stretch much farther, the bands that are loosely bound together under the banner the New Wave Of British Heavy Metal (or NWOBHM), flourished across the UK between 1979 and 1985. Spearheaded by the likes of Diamond Head, Saxon and the Tygers Of Pan Tang, as this set illustrates, this underground scene was fertile and highly influential, producing many future rock legends...