It must have been a slow day at the office when someone in Universal Records' marketing department decided that what this most lavish of album reissues needed in order to help celebrate one of the most vitriolic and controversial debuts of modern times was a bandana and some fake tattoos. Not any old fake tattoos, either, but copies of the band's actual tattoos. You can just imagine the department head pushing his seat back, throwing his boots up on the table and waiting for the first high five.
That's not the half of it – hell, it's not even an eighth of it. We could sit here all afternoon combing through the ephemera and tat crammed into this latest box set in order to hard-sell it to a new wave of fans clambering aboard the Guns N' Roses gravy train as it thunders around the world in the ever elongated shape of their Not In This Lifetime tour. Truth be told, they could have sent this out into the world in a plastic bag and it would have done just fine.
It's hard to overemphasise the impact Guns N' Roses had in those early years, and that was just the reverberations we felt in the UK. Every week (pre-internet) in our magazine office, word filtered down the wires that Slash had died, Axl had beaten a fan half to death, Izzy hadn't been seen for days, Duff had quit and formed a punk band with some friends from Seattle. You could take whichever spin on the story you liked – they usually had some grounding in the truth.
Later, of course, it did get much worse: hours late to shows, drugs, near-death experiences, shows that became riots and then, possibly the worst of the worst, Slash's departure and a shell of a band masquerading under the Guns N' Roses name for more than a decade.
This collection captures the elusive moment when a band gets to grow creatively and blossom into something irresistible and magical out of sight of the public eye and before an adoration that almost inevitably helps snuff out the creative flame that these embers can only start to hint at. There's little or no point poring over the bones of one of rock'n'roll's most defining debut records – suffice to say it now comes with audio configurations far beyond my record player's pay grade. The songs still snap and growl though, all strut and switchblade and the template for a hundred awful West Hollywood bands that would follow after. Appetite For Destruction might have given us Ratt, but you can hardly blame Guns N' Roses for that.
The EP material included here has been rehashed and reissued about a dozen times already so you might want to gloss over that. But it's hard not to listen to these sometimes scratchy demos and studio sessions and not be moved by the sound of building blocks being pulled and pushed into place in order to help build an almost literal empire.
The tentative, slightly off-key backing vocals on an acoustic November Rain make you feel like you're standing in the corner of a rehearsal room, eavesdropping as history is being made, Axl dropping his tambourine to the floor as the song trips to an end. The fleshed-out piano version is touched by greatness too, and makes you wonder why they couldn't quite make it work in time for Appetite's release.
The splashy, acoustic thrum of the Move To The City demo (which didn't make the cut for the GN'R Lies EP) is the sound of a band at ease with itself, punctuated by laughter and riffing around with the song's structure, though it's not clear whether Slash's shouts of "Whiskey!" mean he'd like some or if his order has just turned up.
There's a rare Shadow Of Your Love, two passes at the Stones' Jumpin' Jack Flash and two songs that never made it past the demo stage: the brief jam of The Plague and the thrashy New Work Tune. Especially good is the '86 demo of Back Off Bitch, which makes you curious as to why these tracks never made the final cut on their debut album. In a perfect world, there'd be more work-in-progress sketches (see Metallica fleshing out the bones of nearly ever song on their Master Of Puppets reissue), but it's hard to argue with this gloriously detailed reveal of a band leaving the underground and taking flight, one bloody controversy at a time.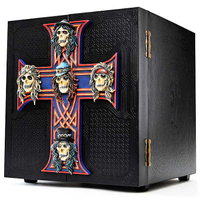 Guns N' Roses - Appetite For Destruction box set
​​The Appetite For Destruction: Locked N' Loaded box is the one true GN'R Holy Grail. The box includes the Super Deluxe Edition with 4CDs featuring the album newly remastered for the first time ever; B-sides N' EPs newly remastered; the previously unreleased 1986 Sound City Session N' More recordings; a Blu-ray Audio disc with the album, bonus tracks and music videos in brand new 5.1 surround sound along with the unearthed music video for "It's So Easy" originally shot in 1989 but never finished; and a 96-page hardcover book showcasing unseen photos from Axl Rose's personal archive and a wealth of memorabilia.
CD1: Appetite For Destruction
1. Welcome To The Jungle
2. It's So Easy
3. Nightrain
4. Out Ta Get Me
5. Mr. Brownstone
6. Paradise City
7. My Michelle
8. Think About You
9. Sweet Child O' Mine
10. You're Crazy
11. Anything Goes
12. Rocket Queen
CD2: B-Sides N' EPs
1. Reckless Life
2. Nice Boys
3. Move To The City (Live)
4. Mama Kin
5. Shadow Of Your Love (Live)
6. You're Crazy (Acoustic Version)
7. Patience
8. Used To Love Her
9. You're Crazy
10. It's So Easy (Live)
11. Knockin' On Heaven's Door (Live)
12. Whole Lotta Rosie (Live)
CD 3: 1986 Sound City Session
1. Welcome To The Jungle
2. Nightrain
3. Out Ta Get Me
4. Paradise City
5. My Michelle
6. Think About You
7. You're Crazy
8. Anything Goes
9. Rocket Queen
10. Shadow Of Your Love
11. Heartbreak Hotel
12. Jumpin' Jack Flash
CD 4 – 1986 Sound City Session N' More
1. Shadow Of Your Love
2. Move To The City (1986 Sound City Session)
3. Ain't Goin' Down No More (Instrumental Version – 1986 Sound City Session)
4. The Plague (1986 Sound City Session)
5. Nice Boys (1986 Sound City Session)
6. Back Off Bitch (1986 Sound City Session)
7. Reckless Life (1986 Sound City Session)
8. Mama Kin (1986 Sound City Session)
9. New Work Tune (1986 Sound City Session)
10. November Rain (Piano Version – 1986 Sound City Session))
11. Move To The City (Acoustic Version – 1986 Sound City Session)
12. You're Crazy (Acoustic Version – 1986 Sound City Session)
13. November Rain (Acoustic Version – 1986 Sound City Session)
14. Jumpin' Jack Flash (Acoustic Version – 1986 Sound City Session)
15. Move To The City (1988 Acoustic Version)
Blu-ray audio
96kHz 24-bit 5.1 Surround Sound & Remastered Stereo
5.1 Surround Sound
Bonus tracks
1. Shadow Of Your Love
2. Patience
3. Used To Love Her
4. You're Crazy
5. Move To The City (1988 Acoustic Version)
Music videos
1. Welcome To The Jungle
2. Sweet Child O'Mine
3. Paradise City
4. Patience
5. It's So Easy
The Locked N' Loaded edition will also come with:
• 12 new illustration lithos – visualising each song from the album
• 5 Metal band skull face rings
• 5 Metal band skull face lapel pins
• 5 Metal guitar picks with band skull faces & signatures
• 5 previously unseen band member lithos
• 5 GN'R Logo Buttons
• Robert Williams painting litho
• Replica '85/'86 gig banner
• Welcome To The Jungle video invite flyer – originally drawn by Slash
• Turntable mat
• Microfiber vinyl cleaning cloth
• 7-inch large hole adapter
• 6 replica early years gig flyers
• 6 iron-on stitched logo patches
• 2-inch collectable coin
• Bandana with silver metallic ink
• 2 wall posters
• Temporary band member tattoos
• 3 replica ticket stubs
• Numbered certificate of authenticity