Bruce Springsteen - The Album Collection Vol. 2, 1987-1996
Tunnel of Love (2LP)
Human Touch (2LP)
Lucky Town (LP)
In Concert / MTV Plugged (2LP)
The Ghost of Tom Joad (LP)
Chimes of Freedom (12" EP)
Blood Brothers (12" EP)
Order from Amazon (opens in new tab)
To suggest Springsteen was going through a period of transition in 1987 is an understatement. The songs on Tunnel Of Love were largely informed by his recent split from first wife Julianne Phillips, and he'd also benched most of the E Street Band; they reconvened for the following year's tour but wouldn't appear in full on a studio album until the 2002's The Rising.
A clearly more reflective Springsteen emerged on tracks such as Tougher Than The Rest and One Step Up, the songs' minimal backing placing emotions front and centre. It was a more scatter-gun Springsteen on Human Touch and Lucky Town, released on the same day in 1992, his hired studio hands struggling to provide the same heft as their predecessors, but the likes of Better Days and If I Should Fall Behind from the latter album shone like diamonds in the rubble.
The songs from the pair fared better in the live setting of 1993's MTV Unplugged (also included here), before Springsteen returned to the stripped-back Americana of Nebraska for 1995's The Ghost Of Tom Joad, packed with cinematic paeans to the bluecollar underclass.
Live EPs Chimes Of Freedom and Blood Brothers round off this vinyl-only box set, the former distinguished by the tender Bob Dylan cover of the title track, and Born To Run re-imagined as a Woody Guthrie dustbowl lament. Crueller critics might label this era of Springsteen's output as the chin-rubbing years, before a return to E Street and a clenched fist punching skywards again.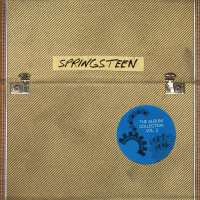 (opens in new tab)
Track listing
Tunnel of Love (1987)
Side 1
1. Ain't Got You
2. Tougher Than the Rest
3. All That Heaven Will Allow
Side: 2
1. Spare Parts
2. Cautious Man
3. Walk Like A Man
Side: 3
1. Tunnel of Love
2. Two Faces
3. Brilliant Disguise
Side: 4
1. One Step Up
2. When You're Alone
3. Valentine's Day
Human Touch (1992)
Side: 5
1. Human Touch
2. Soul Driver
3. 57 Channels (And Nothin' On)
Side: 6
1. Cross My Heart
2. Gloria's Eyes
3. With Every Wish
4. Roll of the Dice
Side: 7
1. Real World
2. All Or Nothin' At All
3. Man's Job
Side: 8
1. I Wish I Were Blind
2. The Long Goodbye
3. Real Man
4. Pony Boy
Lucky Town (1992)
Side: 9
1. Better Days
2. Lucky Town
3. Local Hero
4. If I Should Fall Behind
5. Leap Of Faith
Side: 10
1. The Big Muddy
2. Living Proof
3. Book Of Dreams
4. Souls Of The Departed
5. My Beautiful Reward
In Concert / MTV Plugged (1993)
Side: 11
1. Red Headed Woman
2. Better Days
3. Atlantic City
4. Darkness On the Edge of Town
Side: 12
1. Man's Job
2. Human Touch
3. Lucky Town
Side: 13
1. I Wish I Were Blind
2. Thunder Road
3. Light of Day
Side: 14
1. If I Should Fall Behind
2. Living Proof
3. My Beautiful Reward
The Ghost of Tom Joad (1995)
Side: 15
1. The Ghost of Tom Joad
2. Straight Time
3. Highway 29
4. Youngstown
5. Sinaloa Cowboys
6. The Line
Side: 16
1. Balboa Park
2. Dry Lightning
3. The New Timer
4. Across The Border
5. Galveston Bay
6. My Best Was Never Good Enough
Chimes of Freedom (1988)
Side: 17
1. Tougher Than The Rest
2. Be True
Side: 18
1. Chimes of Freedom
2. Born to Run
Blood Brothers (1996)
Side: 19
1. Blood Brothers
2. High Hopes
Side: 20
1. Murder Incorporated
2. Secret Garden
3. Without You