A new trailer for the upcoming Queen biopic Bohemian Rhapsody has been released.
The latest clip shows Gwilym Lee as Brian May walking the band through the iconic beat of their 1977 hit We Will Rock You.
Lee tells Rami Malek, who plays Freddie Mercury: "I want to give the audience a song that they can perform. Imagine thousands of people clapping in unison."
Malek replies: "What's the lyric?"
Watch the full trailer below.
Lee and Malek are joined in the film by Ben Hardy as Roger Taylor, Joe Mazzello as John Deacon, and Lucy Boynton as Mercury's lifelong companion Mary Austin.
It'll receive its world premiere at London's SSE Arena Wembley on October 23, with the official soundtrack out tomorrow (October 19) via Virgin/Hollywood Records.
Here are 10 reasons why Bohemian Rhapsody could be great.
Queen are also the cover stars of the new issue of Classic Rock. The latest edition is available now and looks back at the band's first 15 years, from just another band of hopefuls, to global superstars, through worrying slump to ruling Live Aid.
The new issue also features an interview with May who reveals on-set stories, behind-the-scenes goings-on and more.
Queen - Bohemian Rhapsody soundtrack
1. 20th Century Fox Fanfare
2. Somebody To Love
3. Doing All Right... revisited (Performed by Smile)
4. Keep Yourself Alive (Live At The Rainbow)
5. Killer Queen
6. Fat Bottomed Girls (Live In Paris)
7. Bohemian Rhapsody
8. Now I'm Here (Live At Hammersmith Odeon)
9. Crazy Little Thing Called Love
10. Love Of My Life (Rock In Rio)
11. We Will Rock You (Movie Mix)
12. Another One Bites The Dust
13. I Want To Break Free
14. Under Pressure (Performed by Queen & David Bowie)
15. Who Wants To Live Forever
16. Bohemian Rhapsody (Live Aid)
17. Radio Ga Ga (Live Aid)
18. Ay-Oh (Live Aid)
19. Hammer To Fall (Live Aid)
20. We Are The Champions (Live Aid)
21. Don't Stop Me Now… revisited
22. The Show Must Go On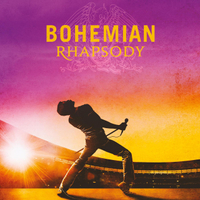 Queen - Bohemian Rhapsody
The official soundtrack to the Queen biopic features previously unreleased audio from Live Aid, new versions of old favourites and a selection of songs from the band's back catalogue.