This Friday (November 16) the Rolling Stones will release the live package Voodoo Lounge Uncut.
The concert was filmed and recorded during the band's set at the Joe Robbie Stadium in Miami, Florida, in 1994 as the Stones toured in support of that year's Voodoo Lounge album.
It'll launch on DVD, Blu-ray, DVD/2CD, Blu-ray/2CD, 3LP, 3LP coloured vinyl, digital video and digital audio this week, with a HD digital audio to follow.
Now the band have released a trailer for the release, which features guest appearances from Sheryl Crow, Robert Cray and Bo Diddley. Check it out below.
A statement reads: "Voodoo Lounge Uncut presents for the first time the full, unedited show filmed on November 25, 1994, at Miami's Joe Robbie Stadium.
"Originally directed by the legendary David Mallet, this new version features 10 performances omitted from its previous release in the 90s, and the full show is now presented in its original running order.
"With its ahead-of-its-time cyberworld staging, guest appearances from Sheryl Crow, Robert Cray and Bo Diddley, and a setlist combining classic tracks with – then – new material from the Voodoo Lounge album, this phenomenal show can now be enjoyed as originally intended.
"As an added bonus, all visual formats feature five tracks from an earlier date on the Voodoo Lounge tour that weren't performed in Miami, making this the definitive record of the tour."
Find full details on the release below.
Rolling Stones Voodoo Lounge Uncut
1. Whoopi Goldberg Intro
2. Not Fade Away
3. Tumbling Dice
4. You Got Me Rocking
5. Rocks Off
6. Sparks Will Fly
7. Live With Me (With Sheryl Crow)
8. (I Can't Get No) Satisfaction
9. Beast Of Burden
10. Angie
11. Dead Flowers
12. Sweet Virginia
13. Doo Doo Doo Doo (Heartbreaker)
14. It's All Over Now
15. Stop Breakin' Down Blues (With Robert Cray)
16. Who Do You Love? (With Bo Diddley)
17. I Go Wild
18. Miss You
19. Honky Tonk Women
20. Before They Make Me Run
21. The Worst
22. Sympathy For The Devil
23. Monkey Man
24. Street Fighting Man
25. Start Me Up
26. It's Only Rock 'N' Roll (But I Like It)
27. Brown Sugar
28. Jumpin' Jack Flash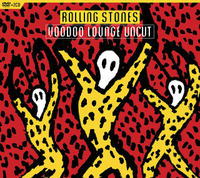 Rolling Stones: Voodoo Lounge Uncut
The Stones' performance from the Joe Robbie Stadium in Miami in 1994, has been restored, remixed and remastered and now features an additional 10 tracks not featured on the original release