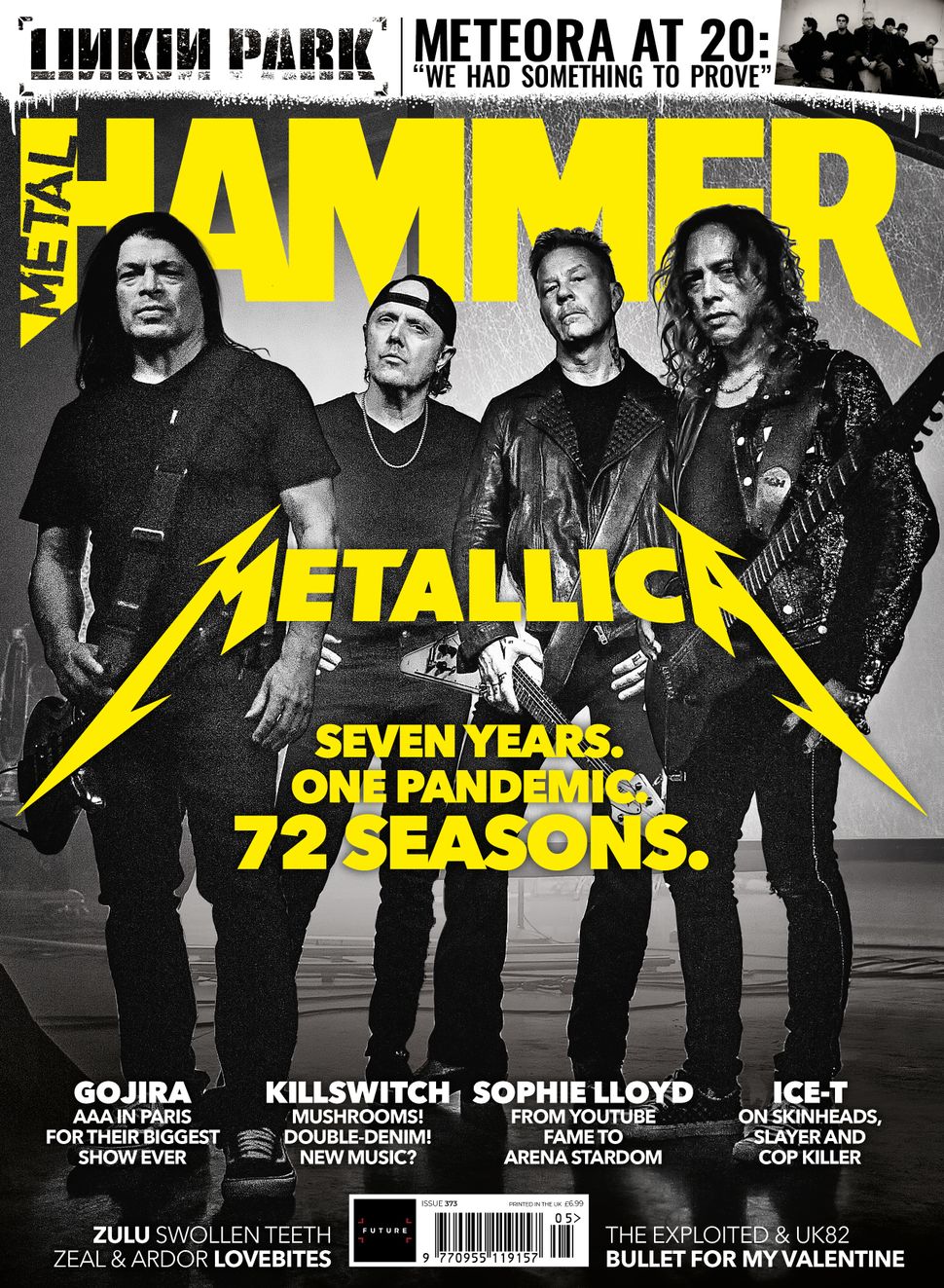 The wait is almost over. On April 14, Metallica release their 11th album, 72 Seasons, and it's shaping up to be the biggest event of 2023.
The band appear on the cover of the brand new issue of Metal Hammer, out now. Inside, Lars Ulrich and Rob Trujillo talk us through the album's epic gestation, the travails of the pandemic and how even the world's biggest metal band are still plagued by uncertainty and insecurity.
Here are 11 takeaways from our conversation with Metallica.

Lars Ulrich might have read what you said about Lux Æterna
The album's first single, Lux Æterna, dropped without warning at the end of November 2022. Cue every single Metallica fan on the planet diving onto the internet to offer their opinion. And glutton for punishment that he is, Lars Ulrich decided to check out what people had to say.
"I mean, I'm not sitting up until four o'clock in the morning scrolling through every one," Lars tells us. "But when you haven't put any music out in five or six years and you dump something like Lux Æterna on an unsuspecting world, you're going to want to see what the feedback is."
---
Robert Trujillo didn't know that Lux Æterna was dropping when it did
Unlike Lars, the bassist wasn't on top of the online comments – mainly because he wasn't aware that Lux Æterna was being released when it was.
"I started getting texts the next morning from friends: 'Wow, the new song's amazing, the video's awesome,'" he says. "I didn't even know that the song was coming out. So maybe the success of keeping it a secret is some of the members not knowing.'"
---
72 Seasons is the biggest lockdown album of them all
Even Metallica weren't impervious to the pandemic. They'd amassed hundreds of riffs over the past seven years, but only started properly knuckling down to record the album after covid hit. It was their remote acoustic re-recording of …And Justice For All opening track Blackened, released in May 2020, that ignited the flame.
"That was really the start of something," says Robert. "It forced us to fire up our home studios and get the machine going. After that it was, like, 'Do we want to do another acoustic number?' And we all said, 'No man, everybody else is doing acoustic covers of their songs, let's write some original stuff. Let's do this.'"
---
Making 72 Seasons gave them a purpose in lockdown
They began working on the album remotely, with producer Greg Fidelman overseeing things. "Sitting in three different places on Zoom calls, trying to figure out what button to press and how shit works," as Lars puts it, adding: "It was all a bit of a clusterfuck."
They reconvened in the flesh later in 2020. "Recording gave us a purpose in lockdown," says Lars. "It was a way to feel as though we were communicating with each other, and staying in touch, and trying to find some light in the dark. Feeling you could turn the energy and despair of those couple of years into something positive."
---
Not being able to tour while making the record was weird
Metallica have traditionally broken up recording sessions with bouts of touring. "The idea of pulling yourself out of it all is helpful, because it gives you perspective," says Lars.
But covid meant the band's touring plans were torched, which threw them a loop. "We've lived decades upon decades of having schedules: 'OK, we're on tour for a month, we're doing this in six months, we're going in the studio in eight months. When you have the uncertainty of not knowing what any of it looks like, it takes your confidence away."
---
James' lyrics are more revealing and soul-baring than ever
Asked what he hears in the frontman's lyrics on the album, Lars replies: "Vulnerability. Transparency. Acceptance and hope. Possibility. Redemption. I feel that they're very daring, I love the vulnerability, I love the fact that he's comfortable sharing that side of what's in his head and what's coming out is very relatable for all of us."
---
And even Lars feels insecure sometimes
"I have good days, as a band member, as a parent, as a life-partner, a song, a friend," says the drummer. "Then I have other days where I feel like a fucking idiot or a loser or my head is not screwed on straight, I'm an asshole or whatever."
---
It's definitely not a throwback record
Lars really doesn't agree that Lux Æterna sounds like old school Metallica.
"If you think that, there's absolutely nothing that I'm gonna do to talk you out of that," he says. "Please don't misunderstand or turn it into 'Lars Ulrich is pissed off at the comments', cos it's not that at all. It's just more this thing about the continuous referencing to other elements of either our own past or somebody else's past. I guess to me the most important thing is whether people like it or not. All that other stuff, I can't wrap my head around that so much."
---
Expect something special from their upcoming dates
Metallica's massive, 18-month stadium tour starts in late April in Amsterdam. "It seemed like a really good idea about a year ago," says Lars. "Now that we're getting close, there's part of it that's, like, 'Holy fuck, what do we just throw ourselves into?' I'm pretty much chained to my Peloton."
They're being cagey about what exactly the stage set will look like, though Lars references epic open-air shows by the likes of U2, Coldplay and Ed Sheeran in terms of what can be done. "I don't think it's a secret that we're playing in the centre [of the stadiums]," says Lars. "We've been doing that indoors for years. But we've never been able to pull that off in stadiums. I think we've found a way to do it. Come to Amsterdam and tell me after the show."
---
The scale of Master Of Puppets' Stranger Things-assisted success took them by surprise
Metallica knew about Stranger Things through their kids. "When we got the opportunity, we said, 'Yeah, have at it,'" says Lars. "And then it just became this cultural phenomenon."
The cultural impact of Master Of Puppets – played in a climactic scene by beloved metalhead character Eddie Munson – was unexpected.
"It's a heavy metal song that's over eight minutes long, that was released in 1986," says Lars. "The fact that become a phenomenon in the summer of 2022 is pretty mind-blowing. It was totally unexpected to meet kids on the street and at gigs: 'Hi, I'm 10 years old and I saw you for the first time through Stranger Things and Master Of Puppets.'"
---
Even after all this time, the Metallica machine isn't as slick as you might think
"We're fumbling along trying to figure out the how to do things the best we can, just like everybody else," says Lars with a laugh. "We're sitting around on Zoom calls going, 'Uh, how do we do this, how do we do that?' Metallica is just as gaffer-taped and jerry-rigged and cluster-fucked as everything else."
He adds: "We do take it seriously and we do try to do the best we can. But as you get older, it doesn't feel like we're any closer to cracking the code on any of it than we were 10 years ago or 20 years ago or 30 years ago."

Read the full feature in the new issue of Metal Hammer, on sale now. Order it online and have it delivered straight to your door.