It was January 2022, and we found ourselves sitting in the empty lobby of a snug Seattle hotel, overlooking the sunset over Puget Sound while soft rock wafted through the PA system. Across from us was Ghost frontman and mastermind Tobias Forge, and we spent nearly two hours talking about music, family, dogs and the steady ascension of Ghost from spooky Swedish underground band to arenafilling titans. But mostly we were there to talk about Impera – their fifth album, then still two months away from release.
In the run-up to an album coming out – particularly one with a highly acclaimed predecessor, like 2018's Prequelle – artists tend to convey palpable anxiety as they prepare to relinquish control of their work to the world. Not so with Tobias, who radiated ease and comfort.
Impera had not yet seen the light of day, but he had already moved on. Looking back at that period today, he explains, "As soon as I am done making a record, I'm pretty much fed up with it. I don't want to hear it, I don't want to know about it, I just want to forget about it. Once it hits the ears of people, depending on how it's being received, that's where you start from scratch again."
Following Ghost's North American tour with Volbeat and Twin Temple, Impera was released on March 11. It seamlessly blended pop-savvy songwriting with elaborate arrangements and steady torrents of anthemic pop metal riffage that created a wormhole back to the lighter-raising, arena-rock majesty of the 80s. From the glass-shattering scream that opened Kaisarion to the synth-rock squall of Watcher In The Sky, it delivered one guitar-powered banger after another.
It was enough to land Ghost their first No.1 position on Billboard's Top Album Sales chart – their fourth Top 10 overall. Even bigger, in terms of vinyl and CD sales, Impera scored 2022's biggest first-week sales for any album, of any genre. With more than 62,000 copies sold in the US alone, it easily bested The Weeknd's February CD release of Dawn FM.
In fact, Impera claimed the biggest first sales week for hard rock vinyl since Pearl Jam's Vitalogy in 1994. Critics united in swift and lusty praise. It might have felt heretical at the time, but many early reviews rated Impera as besting Prequelle on all fronts. Our very own Dave Everley wrote: 'Impera wins on bolshiness, bravado and skyscraping songs alone. Ghost have turned in a modern metal classic with an arena rock heart. It turns out the Devil doesn't have all the best tunes. Tobias Forge does.'
It's safe to say any plans of "starting from scratch" were shoved to the back burner. Ghost's official Imperatour headlining run took them back across North America and then to Europe. Despite the lingering ravages of Covid across the live music industry, they thrived.
"I am very happy that we managed to orchestrate a somewhat functioning but very successful album launch," says Tobias. "We managed to nail 70 shows with just one cancellation. I think in this day and age in this year, that's fucking great!"
Across the globe, stages were filling up with shows that had been booked many years prior. "We had to cut and paste a little with our touring schedule, because this past summer was basically filled with 2020's line-ups," says Tobias.
"That made our scheduling a little… I wouldn't say sparse, but we had breaks that were longer than normal. There are so many bands that are doing these weird dances. The last year of releasing an album into the void, with no touring and cancelling here and there and everywhere, and people having to rethink their lives, basically... We've been blessed not to have done too much of that."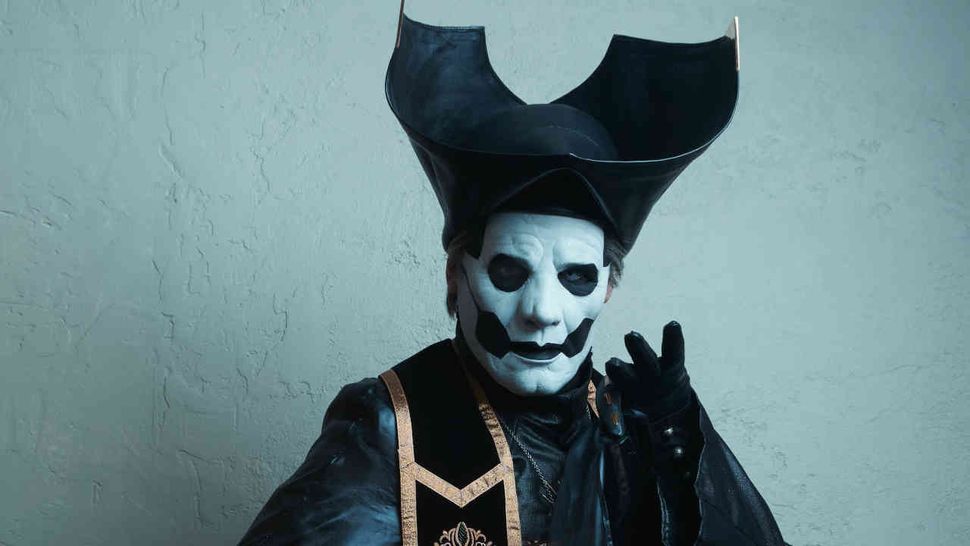 Logistics aside, somewhere along the line, that cultish little band from Sweden – the one with the creepy frontman singing about Satan and plagues and empires – went mainstream. Propelled by Impera's momentum, the band tapped into new levels of cultural saturation thanks to appearances on mainstays such as Jimmy Kimmel Live!.
"TV always brings you in front of new people," says Tobias. "We did [The Late Show With Stephen] Colbert a few years ago, and every time you do something like that, you obviously expose yourself to a new scene of viewers. And that's always great, unless you completely shit the bed on the air. Ha ha ha! I think we did do a few things this year that brought in a whole slew of new people into our fanbase."
But ever the realist, he adds, "You might have a spike of people checking you out… but you don't really notice if things like that had any effect. It's not like the day after, all of your shows are now sold out and there's a double night booked into every show you're doing.
"It's such a slow process that you don't notice until a half year later when new fans come in and say, 'I saw you on Kimmel' or 'I saw you with my dad.' I wouldn't say that being on Kimmel changed everything. It's been slow, step-by-step, but it builds new branches onto the same tree and you keep growing higher."
And higher they grew. In July, Mary On A Cross – originally released on the 2019 EP, Seven Inches Of Satanic Panic – was used in a TikTok tribute to the show Stranger Things. The ripple effect was staggering. The song landed in the Top 10 of Spotify's Viral 50 Global chart. As of this issue, the hashtag #MaryOnACross has notched up well over one billion views. Ghost eventually released an official, slowed-down version of the song and the two versions combined now claim more than 180 million Spotify streams and counting.
"For us, the TikTok thing was or is just a giant bonus," he explains. "That was never something that we planned." Surely the unplanned waves of publicity will ferry over legions of new fans, for whom an embarrassment of riches awaits. "One thing that I felt proud over, was the fact that we've been around for 12 years," says Tobias.
"We've made five records, a bunch of EPs, and I am glad that there seems to be a song that has a way to suck people in. And if they go into our world and like it, there is plenty to find. If you like Mary On A Cross, you can just jump on the train and go where we already are heading."
---
2022 was an uncommonly good year for heavy music, but for Ghost it's been more than a success – it's been a coronation. Despite their demoniacal appearance and transgressive lyrical themes, they have negotiated the near-impossible task of attracting mainstream audiences while holding fast to the diehards in metal who have been there from the start.
It creates the enviable problem of facing a new year with new pressures and heightened expectations. But Tobias has a plan. "We're doing a lot of touring again," he explains. "On previous album cycles we've done four legs in America and two or three in Europe and repeated.
"We're going to go into every territory next year, but there's going to be one European tour, one American tour. We are going to do a little bit of everywhere. There'll be a little bit of something up in upper Asia, on the far end there – a very well-established country with a lot of pop cultural fascination, and the home of videogames. And there's going to be something in the Oceania world, and there might be something south of Panama, and there might be something slightly north of Panama. It feels pretty solid."
He cryptically adds, "We're going to come out with a little bit of change before that – good change. We're not going to go silent. Some things are public, other things not in public view, but there are a lot of things brewing."
We are journalistically bound to inquire about the next album and, unsurprisingly, Tobias remains mum. In January, he told us, "Everything I'm doing now is for the next record. I have a vague idea what that will be like and a vague idea of the title and the colour scheme."
For now, that will have to do, but rest assured that as we all continue to enjoy the masterpiece that is Impera, Tobias is already hard at work, figuring out dramatic new ways to blow our minds. But he still allows himself the odd moment to stop and take it all in. "To be able to make all of the shows that we've done, and to have a record that did fairly well, I think the sum of it is pretty fucking awesome," he smiles. "I'm very thankful. It was a lot of hard work and a little bit of luck."