During their three-decade career, Swedish icons Meshuggah have pioneered a distinct low-end sound powered by polyrhythmic gymnastics and extraordinary technicality that has rightfully been held aloft by the metal world. Even more bewildering and complicated than their music is trying to put their untouchable array of works in any discernible order of merit. But here we go, nonetheless...

10. Rare Trax (2001)
It's a testament to the Swedes' sheer excellence that even their rarities collection is essential listening. Although disjointed and therefore lacking the cranium-levelling momentum that their studio albums build, the punishing melee of opener of War remains one of the band's fiercest tracks. It saw Meshuggah experimenting with programmed drums that would further revolutionise their sound on subsequent releases, while the three tracks from their eponymous 1989 EP displayed the DNA of the extraordinary band they'd become.
---
9. Contradictions Collapse (1991)
Taking the bulging thrash of Metallica's …And Justice For All and mutating it beyond almost all recognition, the Umeå band laid down a blueprint for the future of technical metal with their debut full-length. Though the jazzy rhythmic complexities, cutting-edge sound and ominous worldview would all become more pronounced as Meshuggah refined their skills, the likes of Internal Evidence and Choirs Of Devastation still sound completely thrilling over three decades later.
---
8. Immutable (2022)
The band's ninth effort saw a new label and their longest gap between albums. Yet the long wait resulted in Immutable largely delivering much of the same. And yes, the same was still a dense labyrinth of inexplicably complex and demanding metal that is still light years ahead of the chasing pack. The likes of The Abysmal Eye and I Am That Thirst demonstrated the seasoned campaigners still had the bit between their teeth on a record that would have been hailed as a masterpiece had it been released by one of the band's countless imitators.
---
7. The Violent Sleep Of Reason (2016)
By the time of their eighth album, the Swedes' legacy had already reached legendary status, with new music bringing even more universal acclaim and even a Grammy nomination for Clockworks. The convulsing nightmare of the title track and bludgeoning groove of MonstoCity were testament that the band had lost none of their skill or potency. However, The Violent Sleep Of Reason was more of a tightening of the screws than a revolutionary lunge.
---
6. Koloss (2012)
Such is Meshuggah's standard that an album as monolithic as Koloss doesn't even crack their top five. Each of the band's enviable qualities were there for all to see here, with their trademark complexity matched by the most irresistible groove the Swedes had unleashed this century. Demiurge's hulking advance alongside the sinister aether of Break Those Bones Whose Sinews Gave It Motion saw the perfect examples of their myriad strengths as they continued to push metal further into new realms.
---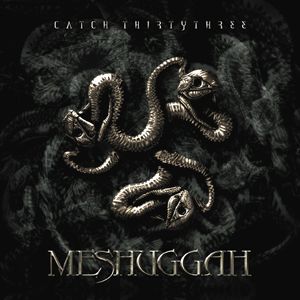 5. Catch Thirtythree (2005)
Following on from the insane 21-minute-long I (2004), this single 47-minute piece of music is still the band's most experimental and genre-defying release. Using programmed drums to make Tomas Haake's rhythms even more incomprehensible, and all manner of textures and tricks to warp the guitars and Jens Kidman's often nightmarish vocals, Catch Thirtythree was an incomparable, hellish descent into the abyss.
---
4. Chaosphere (1998)
Upping the heaviness, groove and technicality, Chaosphere saw Meshuggah confidently morphing the style that had so revolutionised extreme metal in the mid-90s. New Millennium Cyanide Christ and Neurotica remain undeniably catchy despite sounding like a horde of sentient robotic Vikings on a murderous berserker frenzy. Listen to the end of closer Elastic and see whether your brain will be transported to a higher plane or simply dissolve under the strain.
---
3. Nothing (2002)
In 2002 the band slowed the tempo, upped the guitars from seven strings to eight, and unleashed a monolithic, discordant beast that would leave metal reeling. Bolstered by a headline-grabbing appearance on Ozzfest, Nothing deservedly introduced the band to a considerably larger audience. Rational Gaze's precision blows and Straws Pulled At Random's thunderous arsenal deployed vicious hooks that pierced the all-encompassing veil, capped off by the prodigiously oppressive mire of closer Obsidian.
---
2. Destroy Erase Improve (1995)
Years ahead of its time and still proving a fertile hunting ground for countless bands to borrow and rip-off ideas from, Destroy Erase Improve saw the Swedes take the ideas explored on the previous year's None EP and engineer a futuristic, innovative metallic form that indelibly changed the course of extreme music. Whether it was Soul Burn's ground-breaking chug or the warped knockout of Future Breed Machine, mindboggling brilliance shone from every component.
---
1. obZen (2008)
In a career of staggering achievements, it says something of obZen's imperious quality that it takes the highest accolade. On Pravus and the meandering Dancers To A Discordant System, the riffs of Fredrik Thordendal and Mårten Hagström were played with even more scientific precision over the top of Tomas Haake's reality-defying drumming. Yet every member saved their career best performances for the merciless ferocity of cerebrum-conquering masterpiece, Bleed.