Steve Miller Band Complete Albums Volume 1 (1968-1976)
Children Of The Future (1968)
Sailor (1968)
Brave New World (1969)
Your Saving Grace (1969)
Number 5 (1970)
Rock Love (1971)
Recall The Beginning... A Journey From Eden (1972)
The Joker (1973)
Fly Like An Eagle (1976)
Steve Miller may be renowned as the multiplatinum mainstay of US classic rock radio thanks to his era-defining 70s hits but, as this handsome box attests, his entry into that world was with solid-gold psychedelic classics. After growing up in Texas and honing his prodigious guitar chops at Chicago blues clubs, Miller landed in exploding 1966 San Francisco and formed the band that signed to Capitol and wangled recording their first album at London's fabled Olympic Studios with budding producer Glyn Johns.
Coated in experimentation, 1968's Children Of The Future (8/10) boasted Sgt. Pepper-style concept suites, mixing proto-prog Mellotron balladry, freak-beat blues, pre-CSN vocal harmonies and the first vocals from guitarist Boz Scaggs.
Johns rose to his first production with electrifying abandon and returned for kaleidoscopic fever-dream masterpiece Sailor (9/10). After foghorn-blasted mood-setter Song For Our Ancestors (a blueprint for Pink Floyd's Echoes), the album evocatively navigated ethereal psychedelic ballads, street-savvy psych-blues and rocking future glimmers on Living In The USA and Gangster Of Love.
1969's Brave New World (8/10) was another killer, elevated by Nicky Hopkins's piano and unveiling Miller's Space Cowboy persona. My Dark Hour featured just Miller and Paul McCartney (as 'Paul Ramon'). Later that year, Your Saving Grace (9/10) was another towering Johns-era peak, flying high with its magnificent title track and epic psych-gospel ballads.
Johns gone, Miller produced Number Five (8/10), its exotic mix of Tijuana exotica, highway-cruisers and jazzy spices joined by ballads like the heartfelt Jackson-Kent Blues. Capitol used live tracks and out-takes for 1971's Rock Love (6/10), before 1972's Recall The Beginning…A Journey From Eden (7/10) showcased Miller's maturing muse on the ethereal title ballad and others. 1973's The Joker (8/10) plugged into rock's sleeker 70s model with its classic title track. Three years later came the breakthrough Fly Like An Eagle (8/10) packing space-blues radio scorchers in the title track, Take The Money And Run, Rock 'N Me and others and igniting Miller's approaching mega-success.
The magnificent arc presented in this handsome box is a joy to wallow in again.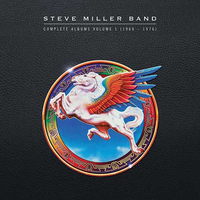 Track Listing
Children Of The Future
1 Children Of The Future
2 Pushed Me To It
3 You've Got The Power
4 In My First Mind
5 The Beauty Of Time Is That It's Snowing (Psychedelic B.B.)
6 Baby's Callin' Me Home
7 Steppin' Stone
8 Roll With It
9 Junior Saw It Happen
10 Fanny Mae
11 Key To The Highway
Sailor
1 Song For Our Ancestors
2 Dear Mary
3 My Friend
4 Living In The U.S.A.
5 Quicksilver Girl
6 Lucky Man
7 Gangster Of Love
8 You're So Fine
9 Overdrive
10 Dime-A-Dance Romance
Brave New World
1 Brave New World
2 Celebration Song
3 Can't You Hear Your Daddy's Heartbeat
4 Got Love 'Cause You Need It
5 Kow Kow
6 Seasons
7 Space Cowboy
8 Lt's Midnight Dream
9 My Dark Hour
Your Saving Grace
1 Little Girl
2 Just A Passin' Fancy In A Midnite Dream
3 Don't Let Nobody Turn You Around
4 Baby's House
5 Motherless Children
6 The Last Wombat In Mecca
7 Feel So Glad
8 Your Saving Grace
Number 5
1 Good Morning
2 I Love You
3 Going To The Country
4 Hot Chili
5 Tokin's
6 Going To Mexico
7 Steve Miller's Midnight Tango
8 Industrial Military Complex Hex
9 Jackson-Kent Blues
10 Never Kill Another Man
Rock Love
1 The Gangster Is Back
2 Blues With Out Blame
3 Love Shock
4 Let Me Serve You
5 Rock Love
6 Harbor Lights
7 Deliverance
Recall The Beginning… A Journey From Eden
1 Welcome
2 Enter Maurice
3 High On You Mama
4 Heal Your Heart
5 The Sun Is Going Down
6 Somebody Somewhere Help Me
7 Love's Riddle
8 Fandango
9 Nothing Lasts
10 Journey From Eden
The Joker
1 Sugar Babe
2 Mary Lou
3 Shu Ba Da Du Ma Ma Ma Ma
4 Your Cash Ain't Nothin' But Trash
5 The Joker
6 Lovin' Cup
7 Come On In My Kitchen
8 Evil
9 Something To Believe In
Fly Like An Eagle
1 Space Intro
2 Fly Like An Eagle
3 Wild Mountain Honey
4 Serenade
5 Dance, Dance, Dance
6 Mercury Blues
7 Take The Money And Run
8 Rock'n Me
9 You Send Me
10 Blue Odyssey
11 Sweet Maree
12 The Window