Freshly-booted from Metallica in 1983, guitarist Dave Mustaine formed Megadeth as both an outlet for his mesmerising fretboard virtuosity, as well as a gigantic middle finger to his former bandmates. Now celebrated as one of heavy metal's Big Four, Megadeth have not only composed some of heavy metal's most familiar and favourite anthems, but their feuds, ambitions and bellicose refusal to be ignored underscore one of the most fascinating legacies in modern music. With Megadeth appearing on the cover of the brand new issue of Metal Hammer, we run down the A-Z of one of metal's greatest bands.

A is for Anarchy
1988's So Far, So Good… So What! featured a cover of the Sex Pistols' Anarchy In The U.K, featuring an appearance by original Pistols guitarist Steve Jones. During a show in Antrim, Northern Ireland that year, Dave Mustaine reportedly shouted, "This one's for the cause! Give Ireland back to the Irish! Anarchy in Antrim!" Largely unfamiliar with the bloody sectarian violence raging there at the time, Dave's comments incited a riot between Catholics and Protestants in the crowd and required the band to travel under heightened security measures for the remainder of their shows in both Ireland and Northern Ireland.
B is for Broderick, Chris
In 2008, the classically-trained shredder joined Megadeth's ranks after the departure of Glen Drover. Broderick's transcendent dexterity and jaw-dropping velocity dovetailed perfectly into Megadeth's dual-fretted formula, but though much-loved by fans, Broderick was ever-dogged by rumours of reunions of the band's Rust In Peace line-up. He resigned from the band in November, 2014, only hours after the departure of drummer Shawn Drover. Those expecting Mustaine to respond with fire and brimstone over the exodus instead found the frontman exceedingly gracious in his response, saying, "The two guys that left were, I believe, unfairly treated by management: they didn't even say goodbye to me – that's how badly they were spoken to – and for that I'm sad. We spent a lot of years together and I wish them well."
C is for Cranston, Senator Alan
The former California senator published a pamphlet in the early 80s which read in part, "The arsenal of megadeath can't be rid no matter what the peace treaties come to". Sitting in a Greyhound bus terminal immediately after being ousted by Metallica, Dave Mustaine stumbled across this pamphlet, and you know the rest. The screed also influenced Megadeth's Armageddon anthem, Set The World Afire, from So Far, So Good… So What!
D is for Drugs
From bassist Dave Ellefson's addiction struggles that forced Megadeth out of the Monsters Of Rocktour in 1988, to Mustaine's 17 trips to rehab, to the drug-related firings of Chris Poland and Gar Samuelson (who died of liver failure in 1999), there is no rational explanation for how Megadeth managed to survive the 80s, let alone the 90s. It all squarely establishes that while man might not live on bread alone, he can utterly thrive on rage and resentment.
E is for Ellefson, Dave
Affectionately known as "Junior", Megadeth's longtime bassist joined in 1983 and his iconic bass intro to the song Peace Sells became the theme for MTV News. Testy legal wranglings between the two ensued after Megadeth's 2002 break-up, and Mustaine reformed Megadeth without Ellefson in 2004. To the delight of fans worldwide, however, Junior returned in 2010. Now sober for well over two decades and active in Christian ministries in his home state of Arizona, Ellefson also plays in a number of side projects, including Johnny Wore Black, Metal Allegiance and Altitudes & Attitude (with Anthrax's Frank Bello).
F is for Four Horsemen/Mechanix
Mustaine initially wrote the song The Mechanix with his pre-Metallica outfit, Panic. When he brought song to Metallica, the band slowed the tempo and released a reworked version as The Four Horsemen on Kill 'Em All. Mustaine recalls listening to Lynyrd Skynyrd's Sweet Home Alabama with Cliff Burton one day, and just to take the piss, he played a Skynyrd-sounding riff in the middle of the song. Although Metallica recorded The Four Horsemen after Mustaine's removal, you can hear the Skynyrd love on the song beginning at 3:27. Megadeth later released Mechanix on 1985's Killing Is My Business… And Business Is Good!
G is for Gar Samuelson
Though his stint as Megadeth's timekeeper lasted only three years, Samuelson played on both Killing Is My Business… And Business Is Good! and Peace Sells… But Who's Buying? The drummer's ferocious technicality and jazzy time signatures powered Megadeth's earliest compositions with feral intensity and his contribution to their signature sound cannot be understated. Along with Chris Poland, he was fired from the band in 1987 due to drug use and he died of liver failure in 1999 aged 41.
H is for Hazelwood, Lee
The first of many iconic Megadeth cover songs, These Boots Are Made For Walkin' originally appeared on Killing Is My Business… as a blazing speed metal update of the original, with certain lyrics altered. Lee Hazelwood wrote the original – made famous by Nancy Sinatra – and after collecting 10 years' worth of royalties from the Megadeth version, Hazelwood demanded that the song be removed from future pressings. It was, though it appeared on Killing's 2002 re-release, with the altered lyrics removed.
I is for Injury
2002 was a brutal year for Dave Mustaine. By April he had undergone treatment for a kidney stone, then relapsed on pain meds before sustaining a compressed radial nerve in his left arm, which left his hand numb and entirely unable to play guitar. Dave consequently disbanded Megadeth, but despite a prognosis that he'd be lucky to restore his arm to 80 per cent, the frontman embarked on a gruelling course of physical therapy, weight training and eventually guitar lessons. Through sheer force of will he recovered, reforming Megadeth in 2004 and releasing The System Has Failed that September. The lesson? Whether it's nerve damage or Lars Ulrich, nobody's going to tell Dave Mustaine what he can or can't do.
J is for Japan
While bands often joke about being huge in Japan, former Megadeth guitarist Marty Friedman really is huge over there. Concluding his 10 years in Megadeth after the release of the disastrous Risk album, Friedman moved to Japan, where he enjoyed acres of work as a prized session player. Since then, the shredder extraordinaire has become a bona fide cultural tour de force in his adopted home, appearing on hundreds of music, news, culture, political and even cooking shows.
K is for Kerry King
The Slayer guitarist spent a minute in Megadeth in 1984 when the band were struggling to find a second six-stringer who understood the riffs and complexity required for the role. Years later, King was asked if he had learned anything in his brief stint in Megadeth, to which he replied, "Well, if you listen to [Dave Mustaine] he'll fucking say, 'Yeah'. As far as [Dave is] concerned, he'll tell you he fucking created me. (Laughs) I'm sure I did learn stuff from Dave. I was very young. I think he's got a couple years on me. He'd been doing it longer than me."
L is for Loomis, Jeff
The Nevermore guitarist auditioned for Jeff Young's vacant seat when Loomis was only 16 years old, though he told Megadeth that he was 22. As he was too young and too green for life on the road with Megadeth, Mustaine took a pass. Loomis recalls, "Basically, Dave Mustaine said 'Hey, you're too young but thank you for flying out here.' He was really cool." Loomis has stated that Dave later offered him a slot in Megadeth but that he declined, preferring the unlimited creative opportunities of driving his own ship to playing in someone else's band.
M is for Metallica
Metallica's 1983 line-up was one of metal's earliest supergroups, boasting Dave Mustaine on lead guitar, riff lord James Hetfield on rhythm and Cliff Burton on bass. Drummer Lars Ulrich was also in the band. Together they conjured a riotous amalgam of howling tempos and paint-stripping fretwork that would inspire the thrash metal revolution. Unfortunately, Metallica's teeming levels of testosterone and alpha energy were matched only by their Herculean appetites for booze, but Dave's mercurial volatility when drunk would prove too much for even his hard-drinking bandmates. In one of the loudest "fuck yous" in rock'n'roll history, on the morning of April 11, 1983 in New York City, James, Cliff and Lars woke Mustaine up at 9am and kicked him out of the band, insisting he leave immediately and handing him not a plane ticket, but a four-day bus ticket back to California.
N is for Nominations
Megadeth hold the dubious distinction of earning the most Grammy nominations without a win for Best Metal Performance, coming up short nine times. For those keeping score, Metallica hold the record for wins in this category with six. Megadeth have additionally earned two Grammy nominations for Best Hard Rock/Metal Performance but they have yet to bring home the hardware.
O is for Outspoken
Dave Mustaine probably needs his own personal A-Z list, but his polarising and often outrageous views are as intrinsically linked to Megadeth as his fretboard heroics. The former MTV correspondent at the 1992 Democratic National Convention has evolved into a vitriolic critic of President Barack Obama, reportedly telling the crowd at a 2012 concert in Singapore that he believed Obama had staged recent mass shootings in the US to support legislation for a gun ban. Dave has additionally drawn flack for his comments about homosexuality and his assertion that President Obama was not actually born in America.
P is for Peace Sells… But Who's Buying?
For thrash fans, 1986 was one long, knee-buckling, 12-month orgasm that yielded classics like Master Of Puppets and Reign In Blood. Megadeth's Peace Sells stands shoulder-to-shoulder with not just the best of 1986, but the best of the decade, with its darkened and astonishingly ambitious compositional outlook, bolstered by scything riff storms like Peace Sells, Wake Up Dead and the Willie Dixon cover, I Ain't Superstitious.
Q is for Quarrels
While Dave Mustaine has created something of a cottage industry of feuding with high profile peers like Kirk Hammett, Phil Anselmo and Suicidal Tendencies' Mike Muir, the weather has been just as stormy within the Megadeth ranks. Whether raging over the drug use of Chris Poland and Gar Samuelson, locked in million-dollar litigation with David Ellefson or trading verbal haymakers with Jeff Young over who was the bigger junkie, band tension has played as vital a role in Megadeth as tour busses and guitar strings.
R is for Rust In Peace
Megadeth's 1990 album saw a newly-sober Mustaine tap into a rich seam of unparalleled creativity with Ellefson, guitarist Marty Friedman and drummer Nick Menza. Largely considered the band's strongest line-up, Rust In Peace was produced by Mike Clink and contains enduring thrash anthems such as Holy Wars… The Punishment Due, Hangar 18 and Tornado Of Souls. The album is not simply filler-free; it boasts such visionary complexity that not a single note sounds out of place. As vital today as felt 26 years ago, Rust In Peace remains Megadeth's masterpiece.
S is for Super Collider
2013 saw Megadeth tumble from the dizzying heights of the critically-fellated Th1rt3en to this tepid collection of paint-by-numbers thrash. With the exception of the absurdly-catchy opener, Kingmaker, the balance of Super Collider suffered from an abundance of caution and a lack of the steroidal swagger that elevated other Megadeth releases into such provocative dimensions.
T is for Torchy Thompson
A man of many cameos and guest appearances, Mustaine played the role of arsonist Torchy Thompson in a 2001 episode of the Sci Fi Channel crime series Black Scorpion, punching the ever-loving shit out of of the titular heroine in one scene as Hangar 18 blasts in the background.
U is for United Abominations
Megadeth's 2007 line-up included the Drover brothers (Glen on guitar and Shawn on drums) along with James LoMenzo on bass. The band's most politicised album to date, it featured the scathing Washington Is Next!, Amerikhastan and the title track alongside a head-scratching re-release of A Tout Le Monde, with Mustaine duetting with Lacuna Coil's Cristina Scabbia. United Abominations remains one of Megadeth's most unfairly underrated outings – a heroic return to the air-punching, beer-soaked denim and Converse days of the 80s.
V is for Vic Rattlehead
Artist Ed Repka breathed life into Mustaine's ghoulish brainchild for the cover of Peace Sells… With his eyes covered, ears plugged and mouth clamped shut, the Megadeth mascot embodies "See No evil, hear no evil, speak no evil," as Mustaine's rebuke of any infringement on freedom of expression. Vic's birth is told in the song Skull Beneath The Skin, from Killing Is My Business… and in 2010 the character began appearing onstage during shows. In 1993, Megadeth played a "secret" gig in Nottingham, billed as Vic and the Rattleheads.
W is for Winning
In 2009, heavy metal author and Team Rock contributor Joel McIver published The 100 Greatest Metal Guitarists, bestowing the No.1 slot on Dave Mustaine. Chuffed as could be, Mustaine said, "It was especially sweet when I found out that Joel has written books on Metallica. Every page I turned, I became more excited. I get to No.5 and it's Kirk Hammett, and I thought, 'Thank you, God'. At that point it didn't matter [which position I was]. To be better than both of them [James Hetfield and Hammett] meant so much – it's been one of the pet peeves of my career and I've never known how to deal with it. All I thought was – I win!"
X is for Countdown To eXtinction
Boasting arena-sized anthems such as Symphony Of Destruction, Skin O' My Teeth and Sweating Bullets, Megadeth's 1992 campaign, Countdown To Extinction, proved their most commercially viable. And yet where Metallica absorbed a barrage of accusations of selling out on 1991's Black Album, Megadeth largely dodged such criticism, even while debuting at No.2 on the Billboard 200 and eventually going double platinum in the US.
Y is for Young, Jeff
While the guitarist's Megadeth tenure begins and ends with 1988's So Far, So Good… So What!, his feud with Mustaine endured well beyond his exit shortly after Megadeth's appearance on the Monsters Of Rock festival. Amid an escalating war of words between the two guitarists, Mustaine was quoted as saying, "Everything that came out of [Young's] mouth was just the highest grade of pure horseshit." Young later responded, "I try to look back on it with positivity. I try to only remember and think about the good stuff, and all the good that came from it… Even though I have a bad feeling about Mustaine as a person… I can totally appreciate the good songs that he's written, and so can his fans. The unfortunate thing is that it's hard for me to appreciate and look back on my time fondly, and it's hard for the fans to enjoy the music, when he won't shut his fucking mouth…"
Z is for Zero Fucks
Beyond the feuds, the pettiness and the personality clashes, the band remain one of metal's most important pillars. They have assembled an obscenely gifted legion of musicians who have given their blood, sweat and sanity in service of one of metal's most timeless sounds. And love him or loathe him, Dave Mustaine's zero-fucks-given worldview has galvanised both him and his band as one of the most exhilarating, unpredictable and transfixing institutions in heavy metal.

Megadeth release their new compilation album, Warheads On Foreheads, on March 22 via UMC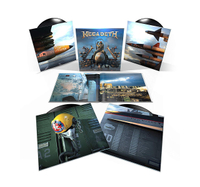 Megadeth: Warheads On Foreheads
Megadeth look back on the 35 years of thrash with this 35-track anthology, featuring tracks including Mechanix, Wake Up Dead, Hangar 18 and The Threat Is Real.