Considering the level of popularity grunge achieved in the 1990s, fans can be excused for assuming those crunchy riffs and personal lyrics were invented by Pearl Jam, Nirvana, and their peers. But grunge's roots run deep, and while a few of the names that belong in the "grunge godfathers" category may be familiar to the casual fan, the majority of them are rather obscure but proved to be influential and important to the formation of the genre.
So here they are, with a short description about just what made them so darn special.

The Sonics
One of the greatest garage rock bands of all-time, it's baffling that the Sonics (pictured above) did not break out in a big way nationwide. They were quite popular back in the 1960s in the Seattle-Tacoma area. Just give a listen to their classic original, The Witch, to hear an obvious influence on such subsequent grunge bands as Mudhoney.
Required Listening: Here Are the Sonics (compilation, 2018) (opens in new tab)

The Wailers
I bet just about any article written about this band after the 1970s has started with the disclaimer, "Not to be confused with the reggae group from Jamaica of the same name, best known for their work with Bob Marley..." So I'll borrow it for the beginning of this entry, as well! Along with the Sonics, the Wailers (who also go by "the Fabulous Wailers") were a great garage rock band and one of the first to cover Richard Berry's Louie Louie (in 1961), although another local band, the Kingsmen, would score a hit with virtually the same version of the tune two years later.
Required Listening: At the Castle / The Wailers and Co. (compilation, 2003) (opens in new tab)

The Blackouts
Although not much grunge can be detected in the Blackouts' sound, the band was unquestionably cutting-edge and original, and at times approached industrial rock territory—many, many years before the likes of Ministry and Nine Inch Nails perfected and popularised it. That makes sense—Ministry's head honcho, Al Jourgensen, would produce the Blackouts' final recording (1985's Lost Souls Club), before two members of the band (Paul Barker and Bill Rieflin) would become full-fledged members of Ministry.
Required Listening: History in Reverse (compilation, 2004) (opens in new tab)

The U-Men
Led by larger-than-life frontman John Bigley, the U-Men lasted for much of the 1980s, and were known for an unpredictable live show that would sometimes see its members performing in odd-yet-coordinated outfits on stage. Musically, the band sounded comparable at times to Jesus Lizard, years before David Yow and company were in business.
Required Listening: Solid Action (compilation, 2000) (opens in new tab)

The Fastbacks
Not all the Seattle rock bands were dudes—as evidenced by pop-punkers the Fastbacks, who included two women (Kim Warnick and Lulu Gargiulo) in their lineup. It turns out that none other than Pearl Jam were admirers of the group – the Fastbacks opened on much of the No Code tour in 1996.
Required Listening: …And His Orchestra (1987) (opens in new tab)

Mr. Epp and the Calculations
This Flipper-sounding group proved to be an important grunge precursor for one simple reason: it was singer Mark Arm's first band – the same Mark Arm who would later be a key member of Green River (alongside Stone Gossard and Jeff Ament), as well as Mudhoney.
Required Listening: Sleepless in Seattle: The Birth of Grunge (opens in new tab) (compilation, 2006: only one song included, Mohawk Man)

The Accüsed
Were they punk? Were they metal? It's impossible to pinpoint exactly what style the Accüsed truly aligned themselves with, but they were one of the first bands to merge the two together. And the band also had one of the gnarliest—and seemingly most dangerous—mascots of them all, Martha Splatterhead.
Required Listening: The Return of Martha Splatterhead (1986) (opens in new tab)

The Fartz
This awesomely named band was Seattle's answer to the burgeoning hardcore-punk movement that was sweeping the underground during the early '80s. The band included a pre-pre-pre-Guns N' Roses' Duff McKagan in their lineup for a spell (on drums, not bass).
Required Listening: Because This Fuckin' World Still Stinks (compilation, 1998) (opens in new tab)

10 Minute Warning
The Fartz would morph into 10 Minute Warning, who somehow seemed to find a way to kick the intensity level up a few more notches. Duff McKagan would move from behind the drum kit over to rhythm guitar, while another chap with some crystal-clear ties to Pearl Jam's history—eventual Mother Love Bone drummer Greg Gilmore—kept the beat.
Required Listening: Survival of the Fittest (1982) (opens in new tab)

Malfunkshun
Malfunkshun is how many members of the Seattle rock underground were introduced to Andrew Wood (then known as L'Andrew the Love Child). With Wood playing bass and handling lead vocals, Malfunkshun certainly leaned more toward the metal side of things (Andrew's brother, Kevin, was a flat-out six-string shredder) and were unafraid to flaunt their love of '70s-era Kiss (as seen by Andy's fondness for performing in whiteface makeup (à la Ace, Gene, Paul, and Peter).
Required Listening: Return to Olympus (compilation, 1995) (opens in new tab)

Green River
Green River belong on this list as they included eventual members of Mudhoney, Mother Love Bone, and Pearl Jam. Furthermore, they turned out to be quite the musical petri dish, merging punk, metal, and '70s glam.
Required Listening: Rehab Doll (1988) (opens in new tab)

Screaming Trees
Screaming Trees would eventually enjoy a bit of commercial success during grunge's heyday (namely the tune Nearly Lost You on the Singles soundtrack), but their roots stretched back all the way to the mid-'80s, and is where much-heralded singer and future Queens of the Stone Age member Mark Lanegan got his start.
Required Listening: Clairvoyance (1986) (opens in new tab)

Soundgarden
Of all the bands listed, Soundgarden was the best at merging metal and punk together, and early on even amalgamated psychedelic and goth elements into their dark and brooding sonic blend.
Required Listening: Screaming Life (1987) (opens in new tab)

Skin Yard
Prog-grungers Skin Yard could be included on this list based solely on their pedigree seemingly all of their members went on to leave their mark on the music biz elsewhere. Guitarist Jack Endino went on to produce countless acts, including Nirvana and Soundgarden; singer Ben McMillan would front Gruntruck; bassist Daniel House ran C/Z Records; and seemingly all of their drummers found grand gigs outside SY (including Matt Cameron, who joined Soundgarden and Pearl Jam).
Required Listening: Skin Yard (1987) (opens in new tab)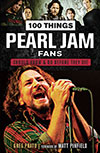 (opens in new tab)
This excerpt from 100 Things Pearl Jam Fans Should Know & Do Before They Die by Greg Prato is printed with the permission of Triumph Books. For more information and to order a copy, please visit www.triumphbooks.com/100PearlJam (opens in new tab).
Greg Prato is a New York-based journalist and author whose books include Grunge Is Dead: The Oral History Of Seattle Rock Music and A Devil On One Shoulder And An Angel On The Other: The Story Of Shannon Hoon And Blind Melon. His writing has also appeared in publications including Rolling Stone, Classic Rock, and Vintage Guitar.