A ferociously intelligent man, Frank Zappa always made the listener aware that he felt that he was 'slumming it' by playing pop music, yet he did more than anyone to push rock music forward, to explore the possibilities and transcend its limits. As well as being a freak icon, Zappa was one of the great 'serious' American composers of the latter half of the 20th century – something that is only now being acknowledged by the 'classical' establishment.
He was an uncompromising satirist, poking fun at both 'square' America and the hippie counter-culture with equal ferocity. More seriously, he was also an articulate spokesman for everything from ending the levy on recording tape to doing battle with the forces of censorship in the US Congress.
After playing drums in various bands as a teenager, Frank Zappa relocated to LA where he worked in advertising and ran a studio. In 1964 he joined local R&B band The Soul Giants as a guitarist. This band eventually became The Mothers Of Invention. A polymath, Zappa incorporated ideas from the avant garde – he was an obsessive aficionado of the music of European pioneers Edgar Varese and Igor Stravinsky – as well as from free jazz, advertising, film scores and more into rock music.
At a time when rock music was undergoing a revolution, the Mothers stood out from the hippie pack by dint of their cynicism, and Zappa's experimental approach to the music that made the studio explorations of The Beatles seem tame by comparison.
Zappa continued to challenge his audience over the years, subverting their expectations at every turn, gleefully playing the role of square peg in a round-hole music industry he loathed throughout his career.
There are no bad Zappa albums, but it doesn't follow that just because you enjoy the fusion of Hot Rats you will necessarily want to wade through his complex and impenetrable synclavier compositions which occupied his latter years. But for Zappa buffs, the distinction is moot.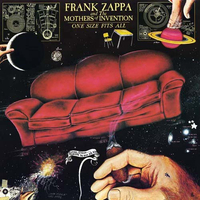 Frank Zappa & The Mothers Of Invention - One Size Fits All (1975)
Zappa's mid-70s masterpiece, the rebirth of the Mothers, with fine cameo appearances from Johnny 'Guitar' Watson and Captain Beefheart (uncredited for contractual reasons). Packed with ideas, it's a comparatively straightforward album and probably Zappa's most accessible.
Opening with the sci-fi funk of Inca Roads, the album flits across art rock (Evelyn, A Modified Dog), complex jazz rock instrumental (Sofa No 1) and heavy rock (the amazing Can't Afford No Shoes and San Berdino) it and fits in neatly as one of the best rock albums of the 70s.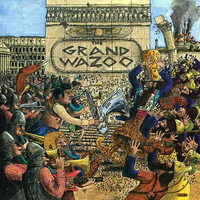 Frank Zappa - The Grand Wazoo (1972)
Zappa once said of this and its predecessor, Waka/Jawaka: "They sold a few copies in Scandinavia." Well, maybe Scandinavians know a masterpiece when they hear it.
Although it was recorded back-to-back with Waka/Jawaka, The Grand Wazoo is superior in every way. It's almost a continuation of the work he started on Hot Rats; largely instrumental, with a heavy emphasis on brass and Zappa's flowing guitar, it's as close as he ever came to creating a straight jazz-rock album. It was also one of the best bands Zappa ever worked with and included trumpeter Sal Marquez and George Duke on keyboards.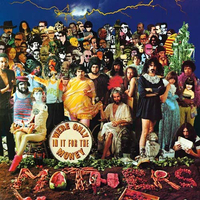 Frank Zappa & The Mothers Of Invention - We're Only In It For The Money (1968)
Zappa's best satirical work, mercilessly savaging the late- 60s flower-power culture. The sleeve parodies The Beatles' Sgt Pepper album, while songs like Who Needs The Peace Corps? and Flower Punk burst the balloon of hippie hubris.
For all that it ribs the Grateful Dead set, however, it also appealed to the same fan base and is as much a classic album of that era as Live Dead. Presented as a sound collage, it is a little bit like flicking across the radio dial between Top 40 pap and 'challenging' soundscapes like The Chrome Plated Megaphone Of Destiny.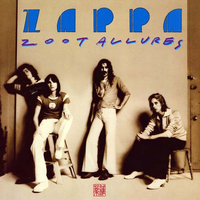 Although the cover depicts a band – Zappa, Patrick O'Hearn, Terry Bozzio and Eddie Jobson – only Zappa and Bozzio actually play on the album. Zoot Allures is a pretty stripped-down, straight-ahead rock album, flawed but with some amazing high points like the sensuous The Torture Never Stops and the guitar instrumentals Black Napkins and the title track.
There's a lot of mediocre parody, like opener Wind Up Working In A Gas Station and the blast at the Travolta craze of the time, Disco Boy. Zoot Allures certainly isn't essential Zappa, but it is one of his most accessible for those from a rock background coming to his music for the first time.
Frank Zappa - Over-Nite Sensation (1973)
The album that includes the notorious Dinah-Mo-Hum, along with some of Zappa's other best songs in Zomby Woof, I'm The Slime and Montana. This marvellous, albeit short, album is the first steps towards the accessibility of Apostrophe (') and One Size Fits All, and again showcases the musical talent he assembled for Grand Wazoo and Waka/Jawaka.
If anything this is as close to a 'typical' Zappa album as you can get: sniggering scatological porno-rhymes like Dirty Love next to social commentary like I'm The Slime, a savage attack on TV, experimentalism and pop sensibilities, along with fantastic musicianship and composition.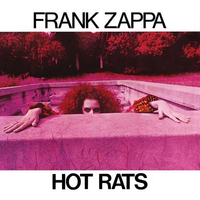 Zappa's first proper solo album, Hot Rats was a clean break from the cut-ups and sneering comedy of the Mothers. It was also Zappa's first (almost) completely serious album.
Consisting of six tracks that range from the disciplined instrumental opener Peaches En Regalia to the rambling, extended jam The Gumbo Variations, the album was both a pinnacle of the jazz-rock fusion boom of the late 60s and one of the first albums to be dubbed (or cursed) 'progressive'. Hot Rats is an album that you can get lost in, and one that, despite being more than 35 years old, never once sounds like a quaint period piece.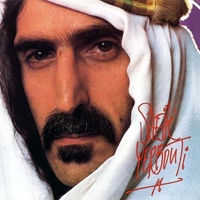 Frank Zappa - Sheik Yerbouti (1979)
Sheik Yerbouti represents the diametric opposite of Uncle Meat: where that 1969 album is difficult to penetrate, Sheik Yerbouti is as close as Zappa came to chasing after commercial success. It even spawned a minor hit single in Bobby Brown Goes Down, and the disco send-up Dancin' Fool.
If Zappa's humour appeals to you, then this is probably going to be your favourite Zappa album, being full of (mostly dirty) jokes about Carter-era America. Most, like the Peter Frampton parody I Have Been In You, are toe-curling, but they are also brilliant songs. Nowhere is the great Zappa contradiction more marked.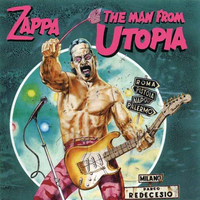 Frank Zappa - The Man From Utopia (1983)
Zappa's 80s period tends to divide his hardcore fans. The trilogy of albums of which this is a part (and which also includes the albums Ship Arriving Too Late To Save A Drowning Witch and Thing Fish) includes some of Zappa's best late-period material, as well as some of his worst.
The Man From Utopia includes the rather dreadful Luigi & The Wise Guys – a doo-wop slight return to the days of Zappa's Cruising With Ruben & The Jets – and the unlistenable SEX. But it also has the magnificent Moggio, the amusing attack on the music biz Cocaine Decisions, and the bizarre 50s sci-fi homage The Radio Is Broken. Cautiously recommended.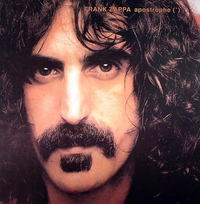 Frank Zappa - Apostrophe (') (1974)
Oddly, this was Zappa's most commercially successful album (it was his first gold-selling disc), largely thanks to the freakish hit Don't Eat The Yellow Snow. With guest appearances from fusion legend Jean Luc Ponty and ex-Cream bassist Jack Bruce, it's a hard rock album that presents the listener with only a modicum of challenge, and includes some of his most memorable songs like the snaky and soulful Cosmik Debris and the comic-prog of St. Alphonzo's Pancake Breakfast.
As well as being one of his most musically accomplished albums – Zappa and the band spin musical cartwheels around one another – it's also the funniest, though not without a dark side.
...and one to avoid
You can trust Louder Our experienced team has worked for some of the biggest brands in music. From testing headphones to reviewing albums, our experts aim to create reviews you can trust. Find out more about how we review.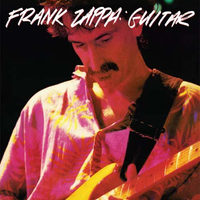 This two-disc set of spliced guitar solos lifted from various live performances is a typically arch Zappa concept-joke. It's actually hard to separate one solo from another, and in the end the whole thing just sounds like two-and-a-half hours of somebody noodling away aimlessly.
But as there's something to recommend every Frank Zappa record, at least the noodling is that of Zappa, although taken out of context the solos sound less impressive than they do in the songs they're taken from. A definite case of less is less. Even if you're a guitarist or a Zappa obsessive, there isn't a great deal that you could actually learn from this.
A roundup of the rest…
Zappa and The Mothers also made some excellent live albums, the best of which are Fillmore East June 1971, Just Another Band From LA and Broadway The Hard Way.
Zappa's work in the 80s is best represented by 1982's Ship Arriving Too Late To Save A Drowning Witch (which spawned his biggest-selling single, Valley Girl (and the already mentioned The Man From Utopia, his last really great 'conventional' rock studio album). Civilization, Phaze III, the last album Zappa completed, still divides fans. An opera-pantomime about people who live inside a piano, the project began in 1967 and was finished just before his death. It stands as a monument to all that was wilfully surreal, perverse and uncompromising about Frank Zappa.
Zappa may have despised the rock business, but he made some incredible hard rock, starting with the Satisfaction-like riff of Trouble Coming Every Day from Freak Out, and including the likes of the acidic blues jam Willy The Pimp from Hot Rats, and I'm The Slime from Over-Nite Sensation. Only Zappa could fuse Iron Butterfly with The Rites Of Spring, as he did on In A Gadda Stravinsky. The closest he came to an actual metal track was Wind Up Working In A Gas Station (on Zoot Allures), although he did murder Led Zeppelin's Stairway To Heaven on The Best Band You Never Heard In Your Life.