Ian Hunter was one of the most inventive writers of the early 70s, paving the way for punk rock with his thought-provoking, honest and gritty songs. As a solo performer he also succeeded with a catalogue of superb albums and a dedicated cult following.
Sell out tours were punctuated with a string of hit singles and Hunter blazed across the front pages of the world's music press as Mott's popularity soared. They became the first rock band to sell out a week of Broadway concerts in New York and Ian's book Diary Of A Rock'N'Roll Star was universally acclaimed. It was a peak period for the group but various personnel changes and increased pressure on Hunter ended with his hospitalisation. By December 1974 Mott were defunct.
Ian's subsequent solo albums were exceptional and eclectic (witness All-American Alien Boy and Short Back 'N' Sides) and he occasionally pooled his skills with guitarist Mick Ronson for production projects including Generation X and Ellen Foley. After 1983 Ian's output was limited but in 1990 he resumed his partnership with Ronson, recording and touring the joint album YUI Orta. In 1993 Ronson passed away after a valiant battle against cancer; this tragedy re-awakened Hunter and generated renewed vigour and excellent albums such as Rant and 2016's Fingers Crossed.
For five years Ian Hunter was the musical powerhouse in one of rock's most valuable groups. He has rejected lucrative offers to re-form Mott, resisted posts with Uriah Heep and The Doors, and his influence remains incalculable with over 150 different cover versions from his astonishing repertoire. His solo work contains some of the most intelligent lyrics ever penned in rock'n'roll – Rape, God (Take One), Morons and Bastard – without any trace of banality.

Essential Albums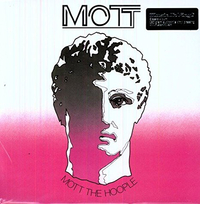 Mott remains a 70s classic chronicling the trials, tribulations, inspirations and desperation of being in a rock'n'roll band. The band considered John Lennon, Mike Leander or Roy Wood as producer but, encouraged by Roxy Music, took the reins themselves and delivered their finest album.
The Ballad Of Mott The Hoople immortalised their Zurich split, Hymn For The Dudes exposed the absurdity of music-related fame and I Wish I Was Your Mother remains one of Hunter's finest songs. The proto-punk Violence retained Mott's earlier anger and Ian penned two cracking hit singles – Honaloochie Boogie (No.12) and All The Way From Memphis (No.10). Near perfection.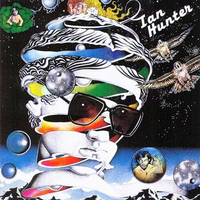 Here is irrefutable proof that the combination of Mott and Mick Ronson could have been sensational. Ian's stunning solo debut contains the hit single Once Bitten Twice Shy (No.16) and the album is an absolute gem, far exceeding post-Hoople expectations.
Mick's fiery guitar tricks and sparkling solos added energy to some of Ian's best-ever compositions including Lounge Lizard, The Truth, The Whole Truth, Nuthin' But The Truth and It Ain't Easy When You Fall. The three opening cuts were described by one reviewer as "rock'n'roll masterpieces" while an adapted Escher drawing used as the album cover echoed Mott The Hoople's own first LP. Hunter turns killer!

Superior Releases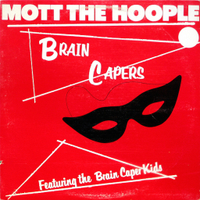 Mott The Hoople - Brain Capers
Having ditched a covers album (this being pre-Pin Ups/These Foolish Things), Mott started to produce this LP (originally titled AC/DC) themselves but soon summoned their mentor. Guy Stevens duly arrived and the ensemble trashed and set fire to Island Studios under his direction. In five days they cut an astonishing record often referenced as a significant precursor to punk.
The Journey proved that Ian had become a majestic writer and The Moon Upstairs exemplified bitter frustration at Mott's lack of commercial success. As well as inspiration, Stevens bestowed them with the strange song titles Death May Be Your Santa Claus and The Wheel Of The Quivering Meat Conception.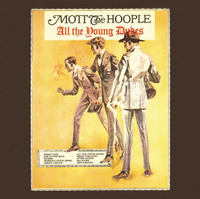 Mott The Hoople - All The Young Dudes
Although Bowie-driven and produced, this album retained some of Hunter's earliest influences including the Stones-styled Jerkin' Crocus. Mick Ralphs' Ready For Love is a classic and Sea Diver features a moving Ronson orchestral score. The title track (No.3) is often classified as the definitive glam anthem but it possessed a darker edge.
The song was linked to Bowie's sci-fi parable told on Ziggy Stardust. The bulletin of imminent Armageddon revealed by the 'news guy' in Five Years was the same 'news' carried by the Dudes, making the single not a hymn to youth but an apocalyptic tale. Nevertheless an infectious classic. All The Young Dudes, the song, was recorded on May 26, 1972.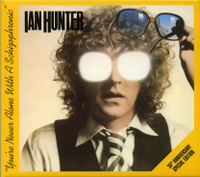 Ian Hunter - You're Never Alone with a Schizophrenic
Ian and Mick reunited in 1978 and worked with John Cale and members of Mountain. Then, after signing with Chrysalis Records, Hunter recorded You're Never Alone With A Schizophrenic with Ronson and members of Bruce Springsteen's E Street Band. The album proved to be one of Hunter's best – Cleveland Rocks, Standin' In My Light, Bastard and The Outsider were exceptional – and the record became one of Chrysalis's biggest sellers.
It yielded a Top 10 hit for Barry Manilow (Ships) but ironically didn't contain a commercial single for Hunter. Ronson found the album title scrawled on a New York toilet wall.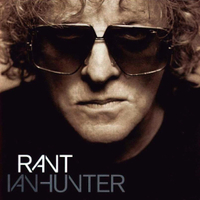 This powerful contemporary collection sees Ian rage at England with Ripoff, Death Of A Nation and Morons. Hunter has always written from the heart and the deterioration in British society and politics has bugged him for some time. Ian: "I don't like to see hundreds of years go down the drain especially with somebody like Blair who has designs on being the President of Europe. At least Maggie Thatcher had an empiric tradition and didn't want to give it all away."
Away from the vitriol, the album also stirs in rockers such as Still Love Rock'N'Roll and the ballad Knees Of My Heart. Meanwhile, the brutal self-assessment of Dead Man Walkin' (Eastenders) is one of Hunter's finest songs ever.

Good Albums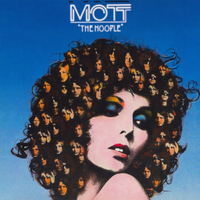 Hunter composed some tough and percipient songs for Mott's final studio album, including two hit singles – Roll Away The Stone (No.8) and The Golden Age Of Rock'N'Roll (No.16) plus Crash Street Kidds and Marionette – a mini-opera attacking the corporate side of rock in which crazed violin, staccato cellos and manic laughter surround Hunter's nightmare of a rock star driven to submission.
Queen followed with Bohemian Rhapsody and the term 'marionette' was used to describe David Essex in his portrayal of a fading pop star in the movie Stardust. Within nine months, though, a new line-up with Ronson folded, Hunter was confined to a hospital bed, and Mott were gone.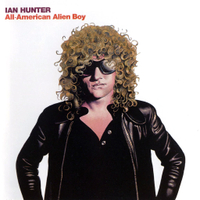 Ian Hunter - All American Alien Boy
Ian came from left-field, recording this in three weeks at New York's Electric Lady Studios. Although labelled 'commercial suicide' by Hunter, its 'Englishman in New York' style was soon mirrored by Gerry Rafferty and Sting. Virtually a concept album, Ian reflects on the Britain he had left behind and reveals his thoughts on being 'hit' by his new home of America.
Irene Wilde and You Nearly Did Me In, with most of Queen on backing vocals, were particular high points. Hunter's tact and lyrical skill were exemplified in Rape, Apathy '83 and God (Take One). A fine band too, including David Sanborn and the late, great Jaco Pastorius.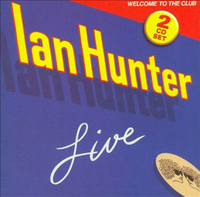 Ian Hunter - Welcome To The Club
A double live set taken from a week-long residency at The Roxy in Los Angeles, this is a blistering, full-blooded collection. Ian mixes MTH hits and solo classics but applies interesting twists to older songs such as Laugh At Me and The Golden Age Of Rock'N'Roll.
Also features Ronson's crafted version of The Shadows' FBI and a side of studio tracks including Silver Needles, inspired by the death of Sid Vicious. This album truly captures the explosive energy of Hunter with Ronson. Stunning songs, great playing and the connection between Ian, band and audience is quite brilliant. There are four bonus cuts on the CD reissue, too. Heaven.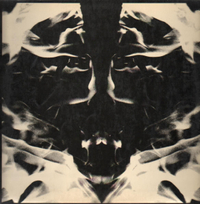 Originally titled Sticky Fingers but Guy Stevens told the Stones, in the same studios, and the rest is history! Jagger was even in the control room as the band segued a bit of Jumpin' Jack Flash into Walking With A Mountain. No Wheels To Ride and I Can Feel (spoiled by a squeaking drum pedal) are fine ballads and Thunderbuck Ram was in a metal vein, but the record is patchy.
Stevens, by then a 'sixth band member', decided to capture them 'live in the studio'. The outcome was dark, badly recorded and all rather serious. When My Mind's Gone was allegedly taped while Ian was hypnotised under Guy's influence. The split image of a flaming grate made a great cover, though.